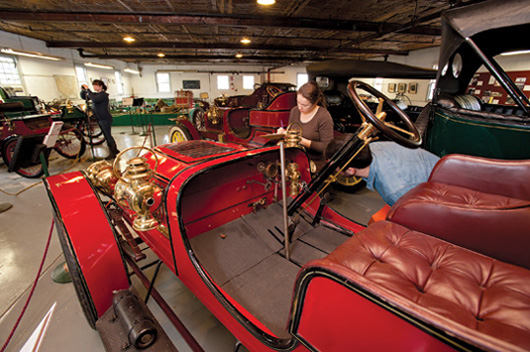 Photos by Evan Krape
A big boost for small museums
ON THE GREEN | At Auburn Heights Preserve, visitors to the newest Delaware State Parks site can view the world's largest collection of working Stanley Steamer cars, ride on a one-eighth-size steam-powered railroad and explore a mansion filled with furniture, decorative objects and memorabilia from the Marshall family, who lived there for three generations.
But in January, the property near Yorklyn, Del., hosted a select group of visitors who were there not as tourists but as working professionals. Through the University's Museum Studies Program, about a dozen graduate and undergraduate students and the program's director took on the task of documenting and cataloging the museum's extensive collections.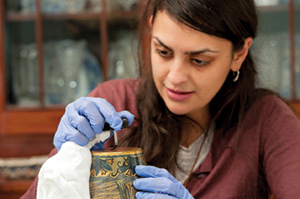 Photos by Evan Krape
"The impact these students had is huge," says Susan Randolph, executive director of the Friends of Auburn Heights Preserve, the nonprofit group that collaborates with the state in operating the site. "We have volunteers who are extremely helpful, but they don't have the professional background in managing collections.
"The students have given us an amazing jump-start on this great collection we have here. Thanks to their help, now there's a process in place, and we can pick up where they left off and continue their work."
The Winter Session project was just the beginning of a three-year initiative called "Sustaining Places," which will provide training for the staff of small historical organizations in the mid-Atlantic region, as well as training and experience for graduate students in the Museum Studies Program. Katherine C. Grier, who is the program's director and a professor of history at UD, is the principal investigator on the project, which has been funded by a $325,286 grant from the Institute of Museum and Library Services.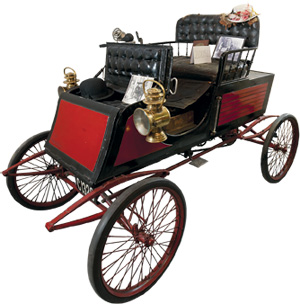 At Auburn Heights in January, students inventoried items in the collections—from Stanley Motor Carriage Co. sales brochures to the 100-year-old steam-powered autos themselves, and from delicate teacups in the mansion's dining room to large rugs and sofas in the parlor. Each item was assigned a collection number, containing such information as when it was acquired and whether it was part of a set with other items, and then the number and a full description were entered into a database called "Past Perfect," specifically designed for museums.
"The biggest problem students have is getting the opportunity for hands-on experience working directly with collections," Grier says. "Even when they have internships in large organizations, they often specialize and don't get the wide-ranging experience that a smaller site like this one gives."
Graduate student Laura Muskavitch agrees, saying that, during a two-week period at the site, she cataloged photographs, inventoried and labeled glassware and silverware, measured and cleaned portions of a model-train layout and helped to clean the cars.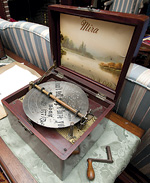 "I just love the variety of this museum, and I feel like we've had a chance to see it all," she says, calling the internship "such a well-rounded experience for all of us."
Students found variety in unexpected places. While cataloging the library of steam-power-related printed materials, a 1933 children's book turned up among the automobile owner's manuals, mechanic's guides and sales brochures, and so The Packard Book With Jack and Jill in Motorcar Land now has been added to the library's online inventory.
Graduate student Lee Roueche says the Auburn Heights project stands out among her previous internships. "This has been a great experience, because we get to make a lot of decisions and solve problems," she says. "And we're all learning from each other."
In the broader "Sustaining Places" project, the Museum Studies Program will work in partnership with the Tri-State Coalition of Historic Sites to assist 40 small museums in the region, focusing on developing staff members' skills in collections, digital media and volunteer programs.
The grant to the project will support four main activities, Grier says: Hands-on workshops, led by professionals in the region, for graduate students and staff members of the organizations; three Winter Session service projects by graduate students, beginning with this year's Auburn Heights work; a resource center that will lend equipment and offer access to training materials; and graduate assistantships and other opportunities for University students to work on the overall project.
The project is important because small historical organizations "are plentiful in our region [and] are both the smallest and the most community-based cultural institutions" but often lack resources and personnel, Grier says. A 2009 study by the Delaware State Library, for example, found that in 80 small historical organizations in the state, only about 20 percent of the collections were inventoried.
At Auburn Heights, owners Tom and Ruth Marshall donated their home and its contents in 2008 to the state Division of Parks and Recreation to maintain as a historical site. The nonprofit Friends of Auburn Heights Preserve already was caring for and operating the Marshalls' collection of steam cars—Tom Marshall's grandfather, who built the mansion, was Delaware's first Stanley automobile dealer—and steam-powered train. The Friends and the state now work collaboratively at the 240-acre property.
"What the University students have done here has saved me more time than I can even imagine," says Daniel Citron, the state's historic site manager for Auburn Heights. "The online catalog they've produced is something I can hand to future interns as a model, and I can share it with other state parks sites as well as a training model."
Article by Ann Manser, AS73