Active volunteers honored with annual award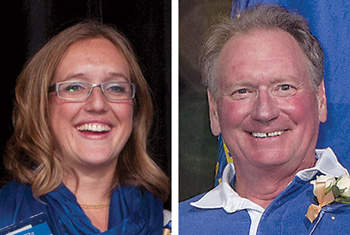 ALUMNI | Kerri Pike, AS03, and Greg Lamoreaux, BE72, have received the Outstanding Alumni Award from the UD Alumni Association.
The award is given each year to two alumni in recognition of their exemplary work on behalf of the University and/or the association.
Pike and Lamoreaux, who both are active with UD's Volunteer Admissions Support Team (VAST), were nominated for the honor by Christine Schultz, EH00M, 06EdD, senior associate director of admissions. Members of VAST interact with prospective UD students, offering them a personal contact and insights about the University, serving as a liaison with the Admissions Office and helping to attract diverse and academically talented classes.