From lost to found, class memento comes full circle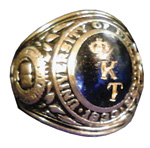 ALUMNI | Thanks to the diligence of a UD alumna and the sleuthing of UD's Office of Alumni Relations, a 1959 graduate has been reunited with his long-lost class ring.
In 1961, Richard F. Annand, AG59, lost the ring while working at Longwood Gardens in Kennett Square, Pa. Fast-forward 50 years to Ocala, Fla. where Phyllis Baker Jackson, EH56, volunteers as a tax preparer and was handed a UD ring by a customer after mentioning to him that she was an alumna.
Jackson contacted the Office of Alumni Relations and asked for help identifying the owner. "The initials are difficult to decipher, but I think they are R.F.A.," Jackson wrote in an email. "The blue stone is imprinted with Phi K T. I hope you can find the original owner."
After some research, the office concluded that the ring belonged to Annand, a brother of Phi Kappa Tau, and called him with the good news. "I never expected to see my ring again, and if it wasn't for Phyllis, I never would have," Annand says. "When you get something like that back, it stops you in your tracks. Here is a part of your past that is back in your life, and you thought it was long gone."
The ring, though worn, was not damaged, he says: "The stone was intact, so I took it to a jeweler and they fixed it right up."
After graduation, Annand worked in large-scale gardening until 2000 and now owns a gardening-tool design and manufacturing company, Longnecker Tools, in Gibsonville, N.C.
Jackson, whose father, Thomas A. Baker, was a professor in the College of Agriculture and Natural Resources, graduated with a degree in home economics. The Distinguished T.A. Baker Professorship was established in 2001 by Jackson and her sister, Melissa Baker Spaulding, AS45, from their mother's estate.