Presidential Citations recognize outstanding alumni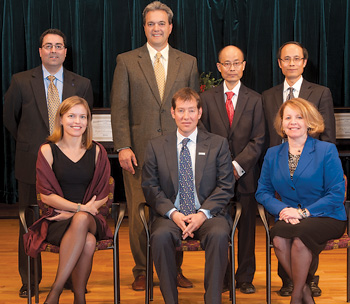 Photo by Duane Perry
ALUMNI | Eight alumni were honored as recipients of the Presidential Citation for Outstanding Achievement during a ceremony held as part of Homecoming Weekend festivities in November.
UD President Patrick Harker—who was introduced by Cindy Campanella, director of alumni relations—welcomed the honorees and their guests and noted that all seven colleges at the University were represented among the recipients.
"These distinguished alumni join a small fraternity of 219 members among 155,000 Blue Hens across the country and around the world," Harker said. "The award was conceived to recognize extraordinary achievement and dedicated service, and when the two coexist, we think it's worthy of a Presidential Citation."
He said the honorees serve as role models, showing UD students that good things can result by complementing talent with hard work, discipline, passion and perseverance.
Following are the 2011 honorees.
Joseph Claricurzio, BE90, a senior vice president at Bank of America, also serves on the board of the Ronald McDonald House of Delaware.
Katherine Hutchinson, HS86M, EH94PhD, who earned her master's degree in maternal-child nursing and her doctorate in family studies, is associate professor in the New York University College of Nursing and has developed instruments and models for family-based HIV risk-reduction interventions.
John Knarr, HS77, 81M, HS90, is owner and physical therapist with Elite Physical Therapy in Rehoboth Beach, Del., and was the founding director of the UD Physical Therapy clinic.
Maggie Leffler Martin, AS94, a family physician who has received national recognition for delivering quality diabetes care, has published two novels and is working on her third.
Andrew Schwartz, AG93, is president of Rosemont Farms Co. in Florida, which, under his leadership, has become one of the East Coast's largest vegetable growers, shippers and distributors.
Sean Wang, EG92PhD, is chief executive officer of B&W Tek, a leading photonics company producing analytical instrumentation, medical systems and lasers, and also co-founded and serves as chairman of the boards of Delaware companies BWTEK Lighting and Litecure.
Ming Xu, EO93M, serves as a marine transportation specialist with Geodis Wilson, volunteers with the Chinese community in Delaware and New Jersey and has served as longtime adviser to UD's Chinese Students and Scholars Association.
Ping Xu, EO94M, BE99M, is a real estate agent, certified financial planner, chartered life underwriter and a certified state court interpreter who has been known to offer his services pro bono to Mandarin speakers in need.