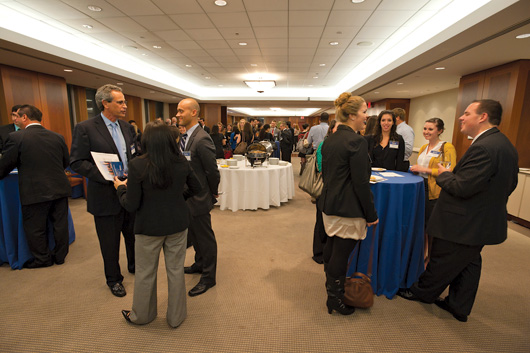 Photo by Evan Krape
Professionals connect with students at club event
ALUMNI | With an eye on the value of networking for career success, the New York City Alumni Club hosted an event in the fall that brought together Blue Hen students and alumni from many industries at different stages of their careers.
"An Evening of Conversation Connections with New York City Alumni" was held at Citi in Manhattan and featured a panel discussion and an informal networking reception.
Stephen Shallo, AS07, president of the club, and Joe Amann, BE06, the special events chair, say that because so many Blue Hens live and work in the New York City area, an event focused on career advice seemed natural.
"Certainly our event wouldn't have been the same without our esteemed panelists, so you can imagine how thrilled we were when each of them enthusiastically replied to our invitation," Shallo says. "Each of them represented a unique industry and presented different professional perspectives, adding considerable substance to the conversational portion of the event."
The panel included Michael Geltzeiler, BE80, chief financial officer of NYSE Euronext and a UD trustee; Richard Greenberg, AG77, global chief of staff of Institutional Recovery Management at Citigroup; Tony Farthing, AS80, regional director of the U.S. Census Bureau; Wendy Goldberg, AS96, an attorney at Sullivan Cromwell; and Matthew Seltzer, AG81, senior vice president of Cassidy Turley. Grace Thompson Leong, AS88, managing partner of Hunter Public Relations, was the moderator, and Bruce Weber, dean of the Lerner College of Business and Economics, was a featured speaker.
"I appreciated being able to share experiences with fellow alumni as well as with current students," Greenberg, who hosted the event, says.
The value in connecting with Blue Hens of all ages was echoed by Geltzeiler, who says the active community of alumni in the New York City area made the event a success and is a great resource for the entire UD community.
"Alumni were able to network with young and old alike…and learn from those who have successfully leveraged the value of networking in their professional pursuits," he says. "It is clear that a vibrant alumni effort will enhance these relationships over time for all UD alumni."
The New York City Alumni Club collaborated with the Office of Alumni Relations to market the event to alumni, and the UD Alumni Association provided financial support. The UD Career Services Center encouraged students to attend, and Matthew Brink, director of the center, chartered a bus to bring 35 students to Manhattan for career meetings during the day and to attend the alumni event in the evening.
"I found this experience to be extremely beneficial, and I followed up with every person I met that day and have stayed in contact with them since," says Michael Burton, BE12. "That one day we spent at the New York City Alumni Club event, and the connections I made there, are responsible for several of the job interviews I've had already and have provided me with a number of potential opportunities for the future."
Shallo calls the event "an incredible success," adding, "The New York City Alumni Club board is already looking forward to planning the next Conversation Connections event, and I hope additional alumni join us."
Article by Stephen Mangat, AS04