Brothers gather to remember fraternity days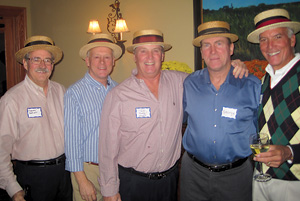 ALUMNI | It was the dream of Ted Haas, AG71, to one day reunite with his Sigma Phi Epsilon pledge class. With the help of the Office of Alumni Relations, that dream became a reality in October.
Haas came to the University in 1967 and pledged Sigma Phi Epsilon that spring semester. It was an easy decision, he says, because his grandfather Joseph Earl Newman, a 1908 engineering graduate, helped found the fraternity at UD in 1907.
Today, with his blood still "running red and purple," he says, he wanted to reunite his brothers from his pledge class of 1968: "Our motto back then was, 'Brotherhood for life.' What we had back then is still there after 47 years."
Now living in Lewes, Del., Haas contacted the Office of Alumni Relations for help locating his brothers and inviting them and their families to the reunion in Rehoboth Beach.
Stephen Mangat of the alumni relations office says he and his colleagues were happy to lend support. "It's the enthusiasm, creativity and volunteerism of alumni like Ted that enhance the alumni experience for all Blue Hens," Mangat says. "We were delighted to help the Sigma Phi Epsilon brothers put on a successful event."
Twenty brothers from pledge years in the late 1960s to early 1970s attended with their dates to enjoy dinner and a game of golf. Some presented a skit about their fraternity life, including a re-enactment of Sigma Phi Epsilon's famous serenades in which brothers in groups of 70 strong would march at sundown through campus dressed in suits and skimmer hats, calling cadence in military fashion until they reached the residence hall of a "Sig Ep Sweetheart."
"The girl came outside, and a brother met her at the door with a dozen purple and red roses," Haas says. "He led her into the heart-shaped group of brothers, and we sang three or four songs to serenade her."
At the reunion, he says, "We serenaded our wives and girlfriends, and they just melted. My wife was a Sig Ep Sweetheart. Everyone wanted to be dating a guy from Sig Ep back then." Romance aside, the mission of the fraternity, "Building Balanced Men," is apparent in the brothers who attended the reunion, Haas says. Those included three judges, one from each Delaware county, and the Delaware secretary of agriculture.
"The event was a dream come true," Haas says. "It felt just like yesterday we were all together on campus."