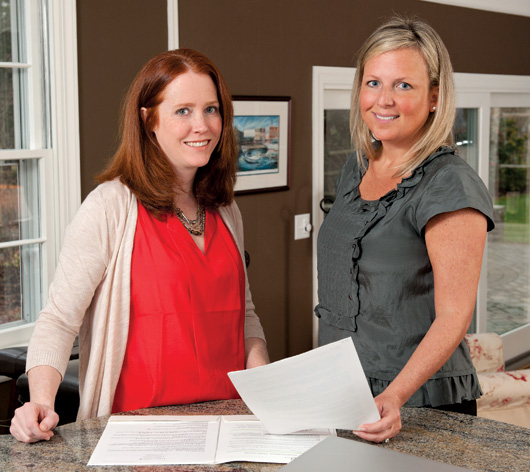 Photo by Evan Krape
Helping women dive back into the labor pool
ALUMNI | When Julie and I were about to graduate from UD in the early and mid-1990s, the world—and our careers in particular—were waiting for us with open arms.
It was almost a foregone conclusion that we would finish our final semesters, compile our portfolios and résumés, attend a couple of career fairs or visit the Career Services Center, take part in some on-campus interviews, collect our diplomas and get a job. It was just that easy.
Fast-forward almost 20 years...
Today, Julie and I are again unemployed, this time by choice. We both left careers to stay at home, tend to our respective families and care for our young children.
A couple of years ago, we met each other through our children's school and became good friends. As we ended up with more time on our hands, we met over coffee and started asking, "What's next?"
Those discussions eventually gave birth to our company, Springboard Careers. We've set out on a mission to help women overcome the obstacles associated with long career gaps and to step back into the workforce with confidence.
Many women who experience an extended absence from a profession have difficulty figuring out their first steps. Often, this type of career re-entry is fueled not by financial need, but rather by motivation, a sense of purpose or personal fulfillment. At the same time, however, we're talking about women who haven't had to update a résumé, search for a job, interview or even dress the part for many years.
Interestingly, many women choose to re-enter a different career from the one that they left behind. We have found that for most of our clients, motherhood fundamentally changes their perspectives. They want to spend their time carefully, and in meaningful ways, but they don't necessarily know what that means as they begin their job searches.
All of these factors contribute to a lack of confidence in otherwise talented, capable, well-educated women. I've been a part of many playground conversations with other moms who earned graduate degrees, who worked as lawyers or doctors or who held executive-level positions.
Yet, in many ways, being stay-at-home moms has become a great equalizer. At some point, and on some level, we all chose to leave that professional world to focus on the daily needs of family and children and, until recently, have been left on our own to figure out how to proceed. Sure, there are resources available—college alumni career services, the Department of Labor, staffing agencies and so on. However, many women navigating this particular transition aren't comfortable using these options.
Julie and I have worked to create a boutique environment that offers customized, personal services for the unique needs of each individual client—a place where they feel comfortable. We're trying to help these women regain confidence at one of life's biggest transitions, filling a void where we saw a lack of resources geared to ourselves and others like us.
Our company is still in its infancy, but we've been steadily gaining traction in the area. When people hear of our business concept, we almost always receive positive reactions and "Great idea!" comments. Many women have offered us tremendous support, particularly older women who have said, "I really wish that I had something like this when I was struggling to get back to work."
For me, the fun part of developing this business has been piecing together the main areas in which women need help: résumés, cover letters, career coaching, technology training, interviewing skills and image consulting, among others. We've been gradually phasing in our services to address these needs.
To get started, we've partnered with local experts in some of these fields and are currently designing workshops and comprehensive programs to address other needs. It helps that Julie and I are typical examples of our ideal client and that we have easy access to many other women like us.
Using the feedback that we received from our earliest clients and supporters, Springboard Careers has changed course a couple of times in our startup phase. We strongly believe, however, that we're heading in the right direction and that our company will be of value to both women and local organizations that need talented workers.
If nothing else, it's been a tremendous experience for both Julie and me—proof that UD has prepared us both for lifelong learning.
Article by Erin Sicuranza, AS95, EH99M
Editor's note
About the Springboard partners
Erin Ford Sicuranza (left in photo above) graduated from the University with a bachelor's degree in history education and a master's degree in educational technology. She spent most of her career in the field of education as a teacher, adult trainer and instructional designer. Before leaving the workforce to stay home with her children, she worked as an instructional technology specialist in Information Technologies-User Services at UD.
Sicuranza co-founded Springboard Careers with Julia DiMartile MacWilliams, BE92, who earned her degree in business administration. Over her 17-year career, MacWilliams worked as both an operations professional and a marketing executive for MBNA Bank, later Bank of America, before opting out to care for her young children. Springboard Careers is located in Wilmington, Del.