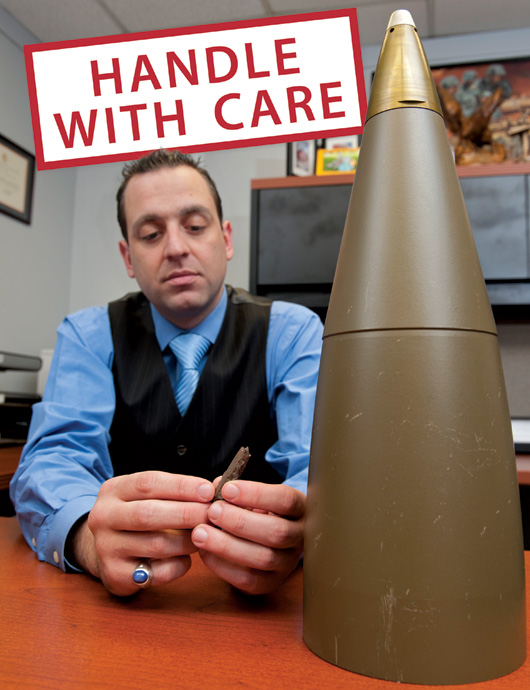 Photo by Evan Krape
ALUMNI | Anthony Di Stasio, EG02, asks himself one question
at the end of every workday: "Have I helped a U.S. warfighter today?"
For the Staten Island, N.Y. native, helping Americans serving their country means developing armament explosives that are safer to store and transport in hostile situations.
Di Stasio serves as project manager with the U.S. Army Armament Research, Development and Engineering Center at Picatinny Arsenal. Set on 6,500 acres in Morris County, N.J., some 35 miles west of New York City, Picatinny Arsenal is the Joint Center of Excellence for Armaments and Munitions.
Among its team of 5,000 military and civilian members are engineers and scientists who work in 64 research laboratories developing armaments, ammunition and explosive materials. One of Di Stasio's most recent projects centered on the development of Insensitive Munitions Explosive 101, known as IMX-101.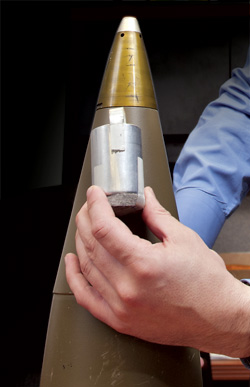 Photo by Evan Krape
The new material is slated to eventually replace TNT and Composition B explosives used in larger weapons categories, including the M777 Lightweight 155 mm howitzer, which also was developed at Picatinny by a joint U.S. Marine Corps and Army program office.
"Our military members don't conduct their mission in a vacuum. There are people firing at them," Di Stasio says. "One of our main jobs is to make the weapons used by our forces so safe that no matter what happens to them, the explosives will not go off unintentionally, killing our troops and those of our allies."
The new explosive material also matches the performance of TNT and Composition B loaded weapons. The combination of that explosive capability, coupled with safer handling features, led to IMX-101 being named one of Time magazine's 50 greatest inventions of 2010.
Thus far, IMX-101 has earned high marks in such areas as shock sensitivity and thermal stability, Di Stasio says. Armaments tested included 155 mm artillery shells measuring 2 feet in length and 6 inches in diameter at the thickest part, and weighing in at 100-plus pounds, including 25 pounds of the IMX-101.
"We loaded eight skids with these rounds and placed them in 150 gallons of jet fuel," Di Stasio says. "The fuel was lit and burned as expected, but the shells did not go off."
In another test where the IMX-101-loaded shells were fired upon, the shells broke apart but did not explode. The test boded well for safer transport and storage of such weapons, especially in operational areas threatened with hostile fire, Di Stasio says.
"The old stuff was never designed for safety," he says. "When it's hit, it just blows up."
Although some pastry chefs might disagree, Di Stasio says that making explosives is comparable to making a cake: "You mix the ingredients together in the correct ratio in order to achieve the desired result. You change the ratio to get more or less lethality—more or less energy. We had to beef up our mixture to give it more energy."
Through his efforts as technical project director for the Army IMX-101 M795 program, Di Stasio has received numerous awards, including the 2010 Department of Army Research and Development Achievement Award for Technical Excellence.
"Nobody before had ever developed an explosive that didn't go off under these conditions," Di Stasio says. "It all worked out. The Army and the Marines are ordering these safer rounds."
An electrical engineering major who switched to mechanical engineering at UD, Di Stasio says his involvement with munitions development was basically the luck of the draw. He heard about Picatinny Arsenal from his parents, applied for a job there and received offers from both the explosive material and the weapons development groups.
"I knew that I wanted to do something with the defense industry," he says. "I never dreamed I would be designing weapons for the military."
Because his engineering classes and projects at UD demanded a team-oriented approach, he says they laid the groundwork for his Army career.
"You have to create that team dynamic if you are to be a successful project leader," Di Stasio says. "At UD, everything, including the senior design project, was about the team. I really have to credit my teachers for stressing that."
While his career responsibilities take him around the world, Di Stasio says he enjoys time away from work by relaxing and enjoying the view from his New York City apartment home. As a New Yorker, he also clearly remembers when the World Trade Center was attacked on Sept. 11, 2001.
"I was a junior at UD," Di Stasio says. "I visited Ground Zero about six months later and most recently when the National September 11 Memorial opened. It was awe-inspiring." z
Article by Jerry Rhodes, AS04