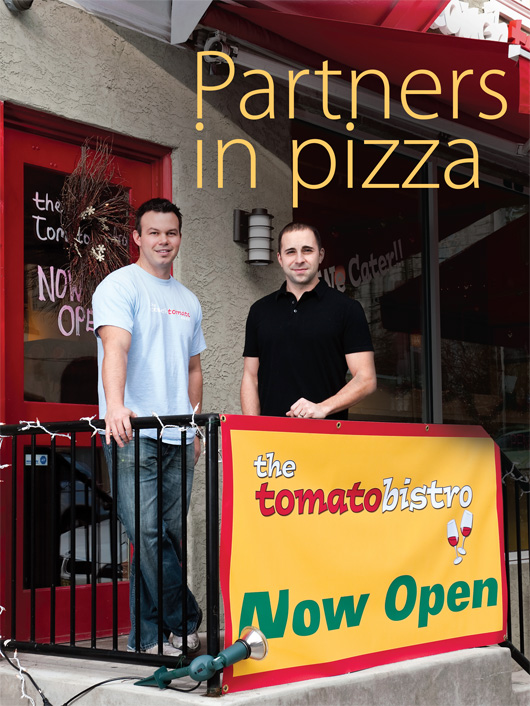 Photos by Kathy F. Atkinson
No matter how you slice it, restaurant proves successful
ALUMNI | Michael Cassano, BE00, and Craig Mosmen, AS00, were cautioned about going into business with a friend. Luckily for them, and for residents and visitors in the trendy Philadelphia neighborhood of Manayunk, they ignored those warnings and opened their popular restaurant, Couch Tomato.
They've never regretted the decision.
"A lot of people warned us about going into a partnership," Mosmen says. "Maybe it was our age at the time, but we felt that it wasn't going to affect us, and we really lucked out because it really didn't. We've seen a lot of partnerships, new businesses in the area, come and go quickly, and so it's been kind of nice to look back and know that we actually didn't make a bad decision."
The two met at UD in 1996 and forged a friendship in the Dickinson E residence hall, where they both lived, and through part-time jobs at Main Street restaurants Peace a Pizza and D.P. Dough.
"When we were at D.P. Dough, at the time it was a pretty new business and the owner was young and we were definitely inspired by the idea of opening a new place on our own," says Mosmen, adding that growing up in entrepreneurial families also helped spark that desire of ownership.
When they graduated in 2000, Mosmen went to work as a financial adviser and Cassano at a payroll company. These jobs were not the careers either had envisioned and, eventually, they both found themselves unemployed. Mosmen recalls that Cassano called him shortly after, wondering if he had any interest in starting up a business as they had always talked about during their student days.
With no money and no experience, securing funds was tricky. After receiving a few thousand dollars from family, they reached out to more than 100 different banks, sending out business plans to about 50.
"We ended up just getting shot down one by one by one," Mosmen says. "And almost about the time we were going to give up, because it just seemed hopeless—nobody wanted to lend $100,000 to two 25-year-old kids with no money and little experience in the restaurant business—one of the banks got back to us and said they were interested."
The friends' fantasy soon became a reality and Couch Tomato officially opened for business on Sept. 13, 2003, in the vibrant Manayunk community. Since then, the restaurant has ridden a wild wave of success. It recently expanded, adding an upstairs bistro to complement the downstairs café.
"It just grew every day," Mosmen says. "We have not had a down year since we opened in 2003. We've experienced an average of 15 percent growth per year since our opening."
Perhaps the truest sign that they've made it, however, is the fact that they often hear people around Manayunk use their own abbreviated names for their restaurant. "Everybody has their own little way of saying it," Cassano says. "When I'm walking through in civilian clothes, you'll hear 'I'm going to Couch' or 'I'm going to the Tomato.'"
What has kept the pair of couch tomatoes seated securely in the Manayunk restaurant scene, they say, has been their commitment to a quality product. "In this neighborhood, there's a lot of good restaurants, and people have an expectation for quality," Cassano says. "So if we came into the area and weren't selling that, we wouldn't make it."
Mosmen echoes this sentiment, saying, "From day one, we always went in the direction of going for the best product on the market and have always looked for the highest-quality ingredients. We have very high-quality flour that we use, and all of our tomato products are top of the line."
When asked if they had any words of wisdom for future entrepreneurs looking to open their own restaurants, both offer up slices of advice.
Mosmen says it's important for owners to dedicate 100 percent of their time to the business and be prepared to work in excess of 90 hours a week, especially in the beginning. He also warns that money cannot be the sole reason for starting a business.
"I see a lot of people that think that it sounds appealing because of the money you could potentially make, but that's the only real drive and it can just be a huge financial loss," he says. "You have to really, I think, be built to work."
Cassano offers a humorous take: "My advice would be don't do it. Because it makes you old fast." On a more serious note, he points out that it's important to know every aspect of the business an entrepreneur is getting into in order to avoid falling into debt.
"The advice I would give people is to try to emulate the franchises and the chains out there because they are proven to work," Cassano says. "Don't try to reinvent the wheel; just follow what they do and give it your own signature. Only one out of every 10 independent restaurants that opens makes it. The other nine are trying to figure their way out of debt."
The bottom line, both partners say, is that if a business owner's passion is not fully invested in the operation, he or she will never be successful. "At the end of the day," Cassano says, "if your heart's not into actually making your business great, it won't be."
Both Cassano and Mosmen have put their hearts fully into Couch Tomato, and now they are seeing their business blossom. Both say that, if not for the strong friendship forged in their early years at UD, their partnership and business model would not be thriving.
Article by Adam Thomas