Charting her course for adventure
Retired Coast Guard admiral made the most of every opportunity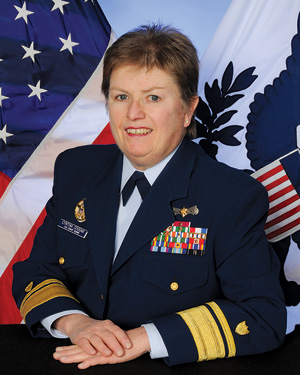 ALUMNI | By the time she retired from the Coast Guard in July 2011, Rear Adm. Cynthia Coogan, HS74, had served with 20 different units over her 35-year career. But like a parent with a houseful of kids, she can't pick a favorite.
"Whether I was standing duty, working a search-and-rescue case or training with a boat crew, opportunities were always there," she says. "I just had to take them and make the best of them."

Coogan, a native Delawarean who went to Conrad High School near Wilmington, earned her bachelor's degree in physical education at UD in 1974. But the summers she had spent at Barnegat Light, N.J., called her to sea soon after graduation.
"My cousin's house shared a back yard with the Coast Guard station," she says. "I got to see from an early age what they did, and I really liked what they stood for. After I graduated from Delaware, I taught for a while, and although I enjoyed teaching, I really wanted to do something more adventurous. The Coast Guard was a perfect fit for me."
She was accepted at the Coast Guard Officer Candidate School in Yorktown, Va., in 1976. That was the beginning of the adventure-filled life she was seeking, and over the next three decades, she found herself stationed all over the U.S., from New York to San Francisco and Maine to North Carolina, and traveled worldwide.
Coogan has worked in all aspects of the Coast Guard's missions, including maritime security, maritime law enforcement, anti-terrorism, search and rescue and environmental protection. Along the way, she earned two master's degrees and received a number of awards, including the Coast Guard's Distinguished Service Medal and the Legion of Merit.
One of her most significant leadership opportunities occurred in 1996 when she was assigned to the Department of Transportation as military adjutant to the secretary. Her work there included coordinating emergency responses to major transportation disasters, including the crash of TWA Flight 800.
"I'll never forget receiving the call," Coogan says. "With little notice, I flew to the accident site at East Moriches, N.Y., arriving before sunrise, just hours after the crash."
The family members of the 230 crash victims soon converged on a hotel close to the airport.
"Needless to say, emotions ran high," Coogan recalls. "It was very sad, but I was honored to have been part of the response to help those families in their darkest hour and proud of the legislation that was passed later that year to protect families of transportation disasters."
Life for everyone in the United States changed on Sept. 11, 2001, and Coogan, who was a commanding officer in Portland, Maine, at the time, was no exception.
"Along with our port partners, we were responsible for critical infrastructure in Maine and New Hampshire, including a tanker-unloading facility, several tank farms and a pipeline system that delivered crude oil to Canada," she says. "Our base was locked down, and we provided people and equipment to deal with the crisis in New York. We also dealt with a disturbed person who threw us a letter from a kayak threatening President Bush's life. That brought it pretty close to home for us."
The 9/11 crisis also opened up new opportunities for Coogan. On March 1, 2009, she assumed the duties of the assistant commandant for intelligence and criminal investigations, a position with responsibilities to support the director of national intelligence's direction, coordination and oversight of intelligence and investigative operations and activities for all Coast Guard missions, the National Strategy for Homeland Security and other national security objectives.
"Our country was fundamentally changed by 9/11," Coogan says. "We're much more vigilant now. When Americans see something, they act."
Coogan has coordinated thousands of maritime search and rescue responses, led 24-7 operations centers, saved hundreds of lives and millions of dollars' worth of property, managed a worldwide criminal investigative and intelligence collection organization, interdicted illegal immigrants from China living in squalor on a crowded ship, worked domestic icebreaking operations and participated in the National Oceans Conference. And, as director of the Coast Guard Reserve, she was responsible for the recruitment, training, allocation and support of 12,500 reservists.
"The Coast Guard gave me the opportunity to do so many neat things," she says, "from enforcing maritime laws to protecting the environment. I loved every job I had, and I loved that every three or four years I knew I was going to get a new assignment and go to a new place."
Coogan clearly found the adventure she was seeking in her career, and now she is faced with finding it in other new places.
"I've had great opportunities in my life and in the Coast Guard," she says. "Now I'm ready to pursue opportunities elsewhere. My short-term plans are to tackle that 'bucket list': Start to play golf again and hopefully play better, spend more time at the shore, catch up with friends and family, and do some traveling. Who knows what's on the horizon, but one thing is certain—it will include opportunity."
And Coogan has proved herself a person who knows what to do with opportunities.
Article by Diane Kukich AS73, 84M