Student Alumni Ambassador wins Keith Award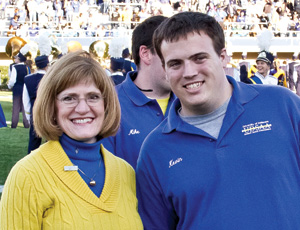 Photo by Mark Campbell
Kevin Collins, a senior sport management major and legal studies minor, has received the UD Alumni Association's T. Muncy Keith Spirit Award. The award is a $1,000 scholarship presented each fall to a Student Alumni Ambassador who has made, or has the potential to make, the greatest contribution to the organization.
The Student Alumni Ambassadors are a group of undergraduates selected for their outstanding achievements and leadership on campus. They encourage school spirit, foster connections between alumni and students, support the Office of Alumni Relations, serve as a student advisory board to the University community and aspire to be active UD alumni upon graduation.
Regional clubs host events around the country
Join former classmates and friends at one of the numerous events planned by Blue Hens for Blue Hens. For details and to register visit www.UDconnection.com/events/. Here is a sampling of coming activities.
May 6—Reading, Pa., Club, Stoudt's Brewery tour
May 9—Northern New Jersey Club, wine tasting at Chakra
May 14—Philadelphia Club, Philadelphia Phillies
May 17—Boston Club, Isabella Stewart Gardner Museum
May 17—Chicago Club, Chicago Cubs
May 17—New Castle County (NCC) Club, cooking demonstration, Vita Nova, UD campus
May 19—Bay Area Club, San Francisco Giants
May 20—Washington, D.C., Club, Washington Nationals
June 9—Chicago Club, volunteer project at Chicago Cares
June 9—Baltimore Club, Baltimore Orioles
June 16—NCC Club, tailgate, Philadelphia Union
June 23—Washington, D.C., Club, Family Day at Burke Lake
June 28—NCC Club, Wilmington Blue Rocks
July 13—Denver Club, Denver Rockies
July 21—UD Alumni Day, Dewey Beach
July 26—Reading Club, Reading Phillies
July 28—Baltimore Club, Aberdeen Iron Birds
Aug. 1—Boston Club, Boston Red Sox
Aug. 11—Northern New Jersey Club, Family Day at Turtle Back Zoo
Aug. 18—Kent & Sussex Counties Club, Delmarva Shorebirds
Special volunteer event
Alumni around the country will be joining forces with UD students on campus for a day of service Sept. 22. Volunteer opportunities will be available for alumni in several cities, planned by the regional alumni clubs. Students will also be participating in hands-on service projects. If you'd like to plan a service project in your city, send an email to alumnet@udel.edu, and the Alumni Relations office will be happy to help.
Call for nominations and volunteers
The Office of Alumni Relations is accepting nominations for awards and seeking volunteers for alumni clubs. More information, a list of past award recipients and applications can be found on the Alumni Relations' website at www.UDconnection.com. Visit www.UDconnection.com/nominate to suggest a Blue Hen for an award or a leadership role.
Awards include the Presidential Citation for Outstanding Achievement, which honors graduates from the last 20 years who exhibit great promise in their professional careers and/or public service activities, and the UDAA Outstanding Alumni Award, recognizing those who exhibit exceptional volunteer work on behalf of the University and/or the UD Alumni Association. Both awards are presented during Homecoming Weekend; the deadline for nominations is June 15, 2012.
To volunteer for an alumni club or organizing an affinity group, visit www.UDconnection.com/clubs for information on regional alumni clubs. In particular, growing alumni clubs in Los Angeles, San Francisco Bay Area, Houston, Dallas, Jacksonville, Miami/Ft. Lauderdale, Orlando, Tampa Bay area, North Carolina Triangle Area and Charlotte are looking for Blue Hens to help lead and assist with alumni efforts. Other opportunities to get involved are in Philadelphia, New Castle County, Kent County, Sussex County, Northern New Jersey, Southeastern Pennsylvania (Harrisburg, Lancaster and Reading), Lehigh Valley, Pittsburgh, Richmond and New York City.
Class reunion volunteers also are needed. The classes of 1963, 1988, 1993, 1998, 2003 and 2008 will be celebrating their milestone reunions during Alumni Weekend 2013, and planning will start soon. If you want to help, email ud-reunions@udel.edu.
Association offers new benefit to alumni, families, friends
Kaplan Test Prep and the UD Alumni Association (UDAA) have partnered to provide alumni, family and friends with a 10 percent discount on select Kaplan products and services.
Visit www.udconnection.com/Services, and click on "Kaplan Test Prep" for details on these benefits.
By taking advantage of these discounts, you will help the UDAA earn revenue that is used to support alumni events and scholarships, alumni awards, regional alumni clubs and other services.
Kaplan also is offering free online practice tests to all UD alumni, their families and friends. Information about registering for practice tests for the GRE, MCAT, LSAT and more is available at the website.
Show some Blue Hen spirit on the job
Do you work with other UD alumni? If so, show your pride by volunteering to coordinate a "Blue Hen Spirit" coffee hour, breakfast, lunch or happy hour.
Holding a spirit event at your company is a great way to meet and network with fellow alumni, share memories from your college days and show your support of the Fightin' Blue Hens. In support of your event, the Office of Alumni Relations will supply blue and gold UD decorations and prizes to share with attendees. Get creative and make it a service project, or take pictures at your event and have them posted at www.UDconnection.com.
Contact alumnet@udel.edu or (302) 831-7033.
Delegates lead the way at Commencement
It is a tradition at the University that, as part of Commencement exercises, two alumni from each class march in the procession honoring the graduating class.
The next alumni delegates will follow the Class of 2012 into Delaware Stadium on Saturday, May 26, and will be seated on the field near the stage. Being a Commencement delegate is a great way to celebrate the achievements of the graduating class, and often the delegates are family members of graduates. Three generations of Blue Hens often walk at Commencement.
Names of alumni delegates are printed in the program, and each delegate and a guest are invited to a reception before the ceremony.
If you are interested in serving as an alumni Commencement delegate, contact the Office of Alumni Relations at UD-delegates@udel.edu or (302) 831-2341.