Countertenor to sing in new oratorio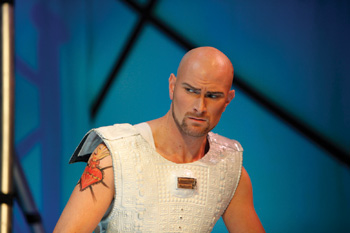 Daniel Bubeck, AS97, a professional singer since 2000 and a doctoral student at Indiana University's Jacobs School of Music, will sing a major role in a new oratorio this spring.
The work, The Gospel According to the Other Mary by American composer John Adams, has been commissioned by the Los Angeles Philharmonic. It will be performed in a concert version in May and June and will return next season in a fully staged version, which will later tour in Europe and the U.S.
Bubeck, a countertenor, made his professional debut in the world premiere of a previous Adams work, El Niño, conducted by Kent Nagano at the Théâtre Musical de Paris-Châtelet. He has since performed that work in more than 20 different productions on four continents with such orchestras as the Boston, BBC, San Francisco and Atlanta symphonies, the Royal Flemish Philharmonic, Malmö Opera and Adelaide Festival.
Volunteer helps UDAA engage, support alumni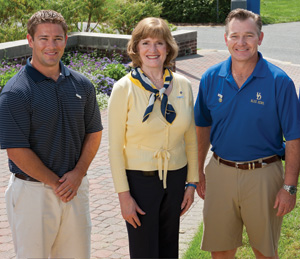 For Kenneth Jones BE80, being a Blue Hen is more than just where he grew up or went to school. It's a state of mind.
Jones, shown here (center) with President Darelle Riabov and past President Alan Brayman, is vice president of the UD Alumni Association (UDAA) board of directors, which serves more than 151,000 alumni members. The association seeks to actively engage and support future and current alumni in a lifelong relationship with the University.
Jones recalls how, as an undergraduate chemistry major seeking guidance from the Career Services Center, a career assessment showed him that he was better suited to work in finance or as a pilot. "I am forever indebted to UD for helping me make the choice to switch from chemistry to finance," he says.
After graduating and serving as a pilot in the Army National Guard, Jones settled back in Delaware with his wife, Lisa, BE80, and their two children. He became a financial adviser with Morgan Stanley Smith Barney and is now vice president of the company's Global Wealth Management group.
Jones served on the board and as president of the Lerner College of Business and Economics Alumni Association and in 2005 joined the UDAA board. "We are incredibly lucky to have Ken and others like him involved on such a personal and professional level with the University," says Lauren Simione, BE95, assistant director of alumni relations. "It's the volunteerism, sense of community and commitment of our alumni that make our University stronger for future generations."
Jones, whose daughter is now an undergraduate, says he appreciates the quality and value of the education UD provides. When his two-year term as UDAA vice president ends, he says, he looks forward to moving into the role of president.
"You find that there is a place in the world where you fit in well, and for me it was Delaware," he says. "I enjoy helping the University of Delaware, because it has done a lot for me personally."
Corps of Engineers team responds to flooding
ALUMNI | Corps of Engineers team responds to flooding
When Hurricane Irene, followed within days by Tropical Storm Lee, caused heavy flooding in northeastern Pennsylvania in August and September, the U.S. Army Corps of Engineers sent out a response team that included two UD alumnae.
Nicole Walsh, EG07, 09M, a geotechnical engineer, was among those deployed to Wilkes-Barre, Pa., one of many towns where the Susquehanna River had overflowed its banks and which were protected from more extensive damage by the Corps' Wyoming Valley Levee System.
Also sent to Wilkes-Barre was Ashley Williams, AS08, a public affairs specialist for the Corps of Engineers. Williams later wrote about the floods, the response and the levee system in an article that has been published in Engineer Update and The Army Engineer magazines.
"This was my first flood-fight experience," Walsh said in the article. "I regularly participate in routine inspections of our district's dams and levees and have assessed storm-related damages to these structures following events, but it was a life-changing experience to have my feet on the ground during high water."
How to engineer a successful career
Five alumni of the Department of Civil and Environmental Engineering visited campus in the fall for the department's inaugural "Practitioner in Residence Day," in which they spoke to undergraduate and graduate students about the doors an engineering degree can open.
"Engineers are problem-solvers, and the ability to bring solutions to problems is exciting," said Teresa M. Ressel, EG86, 87M, now CEO of the global financial services firm UBS Securities.
George Gianforcaro, EG80, said he's used the skills he learned at UD to start a business, IndutexUSA, which manufactures and sells hazardous materials suits around the world. "You can do anything you want with an engineering degree," he told students.
The other alumni participants in the event have succeeded in construction, management and design. Michael B. Berardi, EG80, is vice president of Wohlsen Construction Co.; William L. Johnson IV, EG99, 01M, is senior bridge engineer for FIGG Engineering Group; and Robert J. Tucker, EG92, 95M, is regulatory programs manager for DuPont Chemicals and Fluoroproducts.
Plant scientist takes helm at Iowa State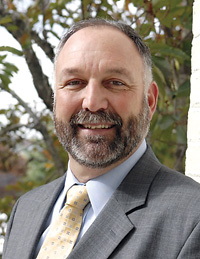 Steven Leath, AG81M, who earned his master's degree at UD in plant science, has been named the 15th president of Iowa State University, the nation's first land-grant university.
"We're going to continue to provide a real hands-on, high-quality undergraduate educational experience, and we're going to make our research very responsive to the needs of the state," Leath says of his plans for the institution. "We want to be the best place for public/private partnerships so that industry is drawn to Iowa State and cooperating with Iowa State."
Before taking his new position in January, Leath was vice president for research and sponsored programs for the University of North Carolina system. He also served as the associate dean of the College of Agriculture and Life Sciences and as director of the North Carolina Agricultural Research Service at North Carolina State University. He holds a doctorate in plant pathology from the University of Illinois.
Leath says he remembers fondly his time at Delaware and especially enjoyed working at the research farm in Georgetown, where he conducted fieldwork on root disease in soybeans.
He credits UD—especially Profs. Robert Carroll and James Hawk—for preparing him for the future, praising the University's work in "transforming college graduates into independent researchers."
Leath and his wife, Janet, AG82, who met at UD, returned to campus in 2010, when he received the College of Agriculture and Natural Resources' Distinguished Alumni Award. "We just still have fond memories and great affection for the University of Delaware," he says.