BAO celebrates 30 years of service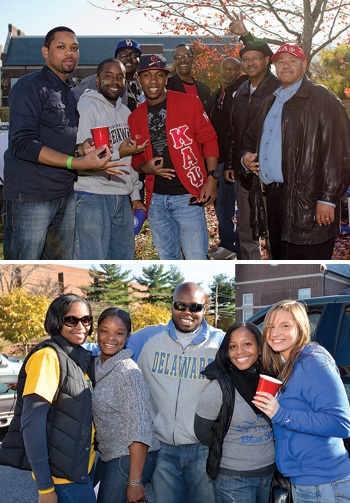 ALUMNI | The Black Alumni Organization (BAO) marked its 30-year anniversary in the fall with a series of special events during Homecoming Weekend that drew nearly 1,000 alumni, students and community members.
At a kick-off reception in the Mechanical Hall art gallery hosted by University Trustees Tony Allen, AS93, 01PhD, and Cynthia Primo Martin, AS69, EH71M, UD President Patrick Harker recognized BAO members for their commitment toward the completion of their scholarship endowment. The University is grateful for the organization's generosity and devotion to student education, Harker said.
"The BAO 30th anniversary celebration during Homecoming was nothing short of amazing," says Terrance Bowman, EG95, the organization's acting president and Homecoming chairman. "All events were so well attended, and we are excited to work toward fulfilling our endowment goal and are looking forward to awarding scholarships during the next academic year."
The anniversary celebrations also included a late-night happy hour, tailgate at the Center for Black Culture, block seating at the Homecoming football game and a prayer breakfast. New this year, the breakfast attracted more than 75 students and alumni with the theme "Spirit of a Blue Hen." The event featured the founder of UD's Warriors for Christ, Timothy Carrington, AS87, as the guest speaker and Wesley Proctor, AS93, as the worship leader. The UD Gospel Choir, an alumni singing ensemble and the Solace Gospel Dance Crew performed.
The weekend culminated with an anniversary gala in Wilmington, Del., with commemorative cakes provided by Dana Herbert, BE98, the 2011 winner of the Next Great Baker TV competition.
"At the heart of UD's strategic plan is an unmatched commitment to academic excellence, scholarship, teaching and service," Allen says. "None of this makes our University world-class without an environment that by definition is inclusive and reflects a broad diversity of thoughtful, high-achieving people. That is the Path to Prominence, and we won't get there without exceptional alumni organizations like the BAO."
Event sponsors included the African American Empowerment Fund of Delaware, the Department of Black American Studies, UD's Center for Black Culture, Delawareblack.com, the UD Alumni Association and the offices of Development & Alumni Relations, Residence Life, Student Centers and Student Life.