Faculty athletics board to advise, review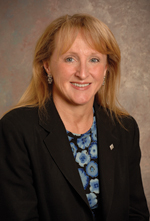 SPORTS | A new board made up of faculty members from across the University has been formed to serve as a review and advisory group, reporting to UD's president and focusing on athletics.
The UD Faculty Board on Athletics replaces the previous Athletics Governing Board, and Lynn Snyder-Mackler has been selected as the University's new faculty athletics representative.
Snyder-Mackler, a board certified sports physical therapist and certified athletic trainer who is an international leader in the field of sports and orthopedic rehabilitation research, is a former member of the Athletics Governing Board. She joined UD in 1989 and now is Alumni Distinguished Professor in the Department of Physical Therapy.
In her role as faculty representative, Snyder-Mackler will serve as an official voting delegate for the University on NCAA matters.
The new board will promote an understanding of intercollegiate athletics among faculty and others within the campus community. The existence of this type of board is strongly encouraged by the NCAA.
"The Faculty Board will play an important role as we strive to provide our student-athletes with a first-class experience here at the University of Delaware," Bernard Muir, UD director of athletics, says. "We are fortunate to have this group of such esteemed faculty members, led by Lynn Snyder-Mackler, lend its ideas and talents to our program. Their guidance will be vital to the success and development of Blue Hen athletics."