Lacrosse coach takes international stage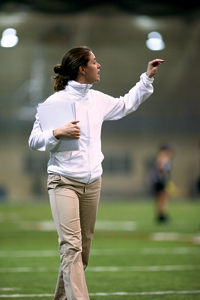 SPORTS | During an extensive international summer for UD athletics, Blue Hen women's lacrosse head coach Kateri Linville coached the Canadian squad at the Under-19 Women's Lacrosse World Championships in August.
Linville, who completed her first season as head coach at Delaware last spring, served as an assistant coach and helped guide the U-19 Canadians, who captured the bronze medal and reached the podium for just the second time in history. Team Canada was one of two North American teams on the podium as Team USA took the gold, defeating Australia in the championship game.
"Coaching at the international level has always been a part of my dream," says Linville, whose family heritage is a quarter French-Canadian. "Making your dreams your reality is special, but what made this world championship experience special for me was the people I worked with and got to know the last two years."
Visit www.bluehens.com for all your UD athletics news.