Eight top athletes selected by Hall of Fame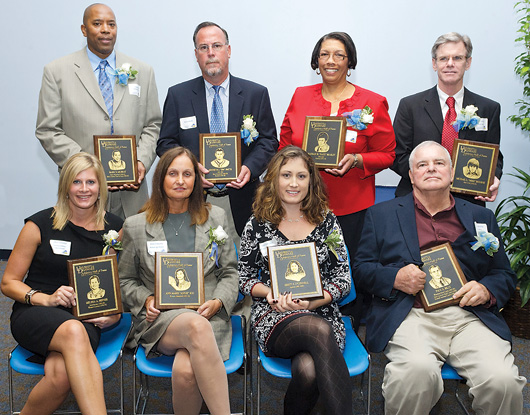 Photos by Kevin Quinlan
SPORTS | Standout coaches and athletes representing every decade since the 1950s highlight the 2011 class of the UD Athletics Hall of Fame, recognized publicly during halftime of the Sept. 24 football home game.
The eight-person class features five men and three women, representing 11 different Blue Hen sports programs. Members include long-time wrestling head coach and football assistant Paul Billy, three-time NCAA tournament-qualifying golfer Mike Bourne, two-sport field hockey and lacrosse all-conference performer Melissa Hefner, pioneering high-scoring women's basketball player Annie Igo, high-scoring basketball guard and conference champion track sprinter Mark Murray and dominating softball pitcher Kristi O'Connell. All-American football running back Nate Beasley and baseball and basketball standout Jim Smith were inducted posthumously.
Following are brief highlights of the 15th induction class, which brings membership in the Hall of Fame to 127 former UD greats:
Nate Beasley, AS80, a hard-charging running back, starred for some of the top teams in school history in the early 1970s, leading Blue Hen offenses that literally ran over opponents. Mr. Beasley, who died in March 2010, went on to coach in the Capitol Trail Football League in New Castle County, Del., sending many teens on to successful college careers.
Paul Billy, EH68M, one of UD's most successful and multifaceted coaches, led the wrestling squad for 28 years, assisted the football program for 23 seasons and was men's lacrosse head coach in 1964-65. He was an associate professor in the then-College of Physical Education, Athletics and Recreation before retiring in 2000.
Mike Bourne, BE79, was a four-year golf standout in 1974-78 and is the only UD golfer to compete in three NCAA tournaments. He served as captain in 1978 when the team went 23-2 and placed second at the ECC tournament. Bourne taught golf in 2001-07 and helped found the Golf Academy of Delaware.
Melissa Hefner, HS97, a two-sport standout in women's athletics, was a four-year starter in both field hockey and lacrosse in 1993-97 and earned team Most Valuable Player honors and all-conference laurels for both squads. After graduation, she served as a graduate assistant coach in soccer and lacrosse at Marist College.
Annie Igo, HS75, a pioneer of the successful women's basketball program at Delaware, was a high-scoring standout on the first three varsity teams in 1971-74 and led Blue Hen teams to three straight winning seasons. Since graduation, she has been active in USTA tennis and has won multiple gold medals at the Senior Olympics.
Mark Murray, HS93, led the resurgence of Delaware men's basketball under Hall of Fame coach Steve Steinwedel, leading the Hens to their first NCAA tournament in 1992 while putting up big numbers as an all-around player in 1988-92. A four-year starting swingman, he also was a standout sprinter in track.
Kristi O'Connell, HS00, one of the Blue Hens' most dominating softball pitchers, enjoyed a record-setting career in the circle for Delaware in 1997-2000. She set virtually every pitching record, including a school-record six no-hitters and a career-high 14 strikeouts in 1999. O'Connell was honored as the UD Outstanding Female Athlete of the Year in 2000.
Jim Smith, EH58, starred in both baseball and basketball between 1954-58. As a standout guard in basketball, he became just the second player in school history to reach the 1,000-point career mark. On the diamond, Mr. Smith, who died in 1999, was a three-year regular as an infielder, was drafted by the Phillies and played briefly in the minor leagues.
Visit www.bluehens.com for all your UD athletics news.