Soccer forward leads successful offense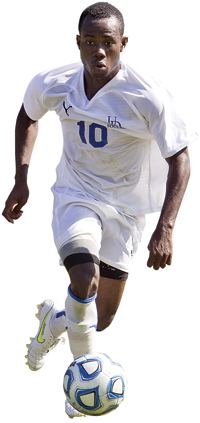 SPORTS | A season of firsts continued for the men's soccer team as senior Evans Frimpong and sophomore Roberto Gimenez headlined the 2011 Colonial Athletic Association all-league honors announced at a pre-championship banquet in November.
On the eve of the quarterfinals of the Virginia 529 CAA Men's Soccer Championship, Frimpong was selected as the Player of the Year and Gimenez as Rookie of the Year. The voting was conducted by the league's head coaches.
Delaware (11-5-2, 6-4-1 CAA), led by head coach Ian Hennessy, advanced to the tournament for the second straight year. As the UD Messenger was preparing to go to press, the Blue Hens, at the No. 4 seed, were about to take on No. 5 seed Northeastern on Nov. 10, with the winner advancing to take on top-seed James Madison University.
Visit www.bluehens.com for an update on the championship season.
Frimpong and Gimenez were also named to the All-CAA first team while senior back Darren O'Conner earned a spot on the third team. Newcomers Yoan Fontaine and Prince Nartey were named with Gimenez to the All-Rookie team.
Frimpong, a native of Ghana and UD's first double-digit goal scorer since 2004, is just the sixth player in Delaware men's soccer history to earn conference Player of the Year honors.
Visit www.bluehens.com for all your UD athletics news.