Blue Hen goes for the gold on Team USA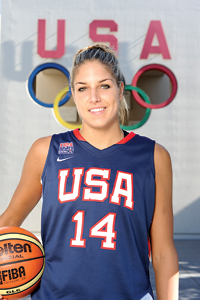 SPORTS | Elena Delle Donne became the first athlete in UD or Colonial Athletic Association history to win a gold medal as a member of Team USA, which in August won the 2011 World University Games Women's Basketball championship.
The team took the gold with a 101-66 victory over Taiwan in the championship game, in which Delle Donne scored 18 points, 11 rebounds and eight assists. The international competition was held in Shenzhen, China.
"This has been a journey of a lifetime," Delle Donne said at the time, "and as Coach said to us, 'This hasn't been just a three-month experience; it started from when we were young little girls growing up, dreaming of a moment like this.' So, it's incredible."
Delle Donne averaged USA team highs of 15.7 points per game and 8.5 rebounds per game throughout the tournament. The victory marked Team USA's third contest and third win against Taiwan. The two teams previously met in 2005, when the USA defeated Taiwan 109-57, and in 1993, with Team USA winning 84-73.
The World University Games are a multisport competition organized every other year by the International University Sports Federation. The 12-member USA women's basketball team is made up of U.S. citizens who are currently enrolled in college and have remaining college eligibility.
Delle Donne also has been named to the Women's Preseason Top 30 List for the John R. Wooden National Player of the Year Award, the second consecutive preseason she was recognized. She is joined on the list by fellow CAA competitor Courtney Hurt from Virginia Commonwealth University, which Delaware will face just once in conference play this season on Feb. 5. The Hens were scheduled to see another Wooden Preseason List selection in Alex Bentley from Penn State, and the team could also face Maryland's duo of Lynetta Kizer and Alyssa Thomas at the Dec. 29 Terrapin Classic at Maryland.
The 6-foot-5 Delle Donne had a highly successful season in 2010-11 despite missing 12 games due to illness. She eclipsed the 1,000-point mark in just 38 career games, reaching that milestone more quickly than any other player in CAA or Delaware history.
Visit www.bluehens.com for all your UD athletics news.