Basketball season tips off on Homecoming Weekend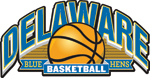 SPORTS | The men's and women's basketball teams opened their season Nov. 11, with the men playing at Radford and the women at home in the Bob Carpenter Center, taking on Rhode Island during Homecoming Weekend.
Under the direction of 16-year head coach Tina Martin, the women are following a 2010-11 season in which Elena Delle Donne helped lead the team on a spirited run to the CAA finals after entering the tournament as the No. 7 seed. The Blue Hens, behind Delle Donne's 25.3 points per game in the tournament, reached the finals for the first time since the 2004-05 season.
With a second straight 20-win season, Delle Donne helped the Hens compete in the Women's National Invitation Tournament for a second straight year. Delaware fell to the tournament's eventual champion, Toledo, 58-55, in the first round.
The women's team has its final home game Feb. 26 against Northeastern and concludes its season Feb. 29 at William and Mary. The CAA tournament will be held March 8-12 at The Show Place Arena in Upper Marlboro, Md.
The men's team, under sixth-year head coach Monté Ross, is scheduled to compete in the Sears BracketBusters on Feb. 18 and to conclude its season at home Feb. 25 against Northeastern. The CAA tournament will be held March 2-5 at the Richmond Coliseum.
For updates, visit www.bluehens.com.