Alumni and others whose lives were touched share their memories and thoughts.
Richard Mroz, AS83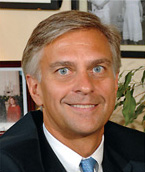 Jim was a mentor in the best of the meaning of the word. For all the years at UD—and all the years thereafter until he died—he was a teacher, adviser, confessor and someone who inspired me.  
A good anecdote, which captures him, was my first meeting with him. I was considering attending UD and visited the campus as a high school senior at the suggestion of a family friend who was a sophomore. Our friend arranged a campus tour and then we would later meet Jim Soles—whom I had not met—at the Scrounge for lunch.   
I was accompanied by my mother, who drove with me that day to the campus. We met our friend at the old student center. My mother stayed behind at the student center and was going to look around the bookstore while we took the tour.   
We returned later to the Scrounge, and upon entering I found my mother laughing and chatting away with a short man wearing a three-piece navy blue suit and a red carnation in his lapel. He thrust out his hand to shake and said in a very thick Southern accent, "Richard Mroz, I am Jim Soles, and it has been a pleasure chatting with your mother—and we have decided you should attend this University!"
I was utterly impressed by this personality who somehow found my mother—a person whom he had never met—and how inspiring he was as we talked that day…and for years thereafter. He was and will always be an inspiration to me.