Alumni and others whose lives were touched share their memories and thoughts.
W. Leighton Lord III, AS86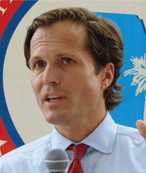 We all miss Jim a great deal. While Jim was many, many things to each of us, and we have stories about all aspects of how Jim impacted our lives, I will tell a political story:
In 1974, Jim ran for Congress, and my best friend's father was helping Jim in Sussex County, where I grew up. My friend Mark and I were 11. Mark's father put "Sold on Soles" T-shirts on us and sent us out with a handful of bumper stickers. So, this was my first campaign work—and about eight years before Jim became my professor, mentor and friend.
Thirty-five years later, I ran for Attorney General of South Carolina, my new home. Three days before the primary, in June of 2011, Jim came down to work on my campaign. Having Jim with me meant a great deal to me; I felt calm and in control with him near. Two nights before the primary we had a phone bank where volunteers called likely primary voters. Jim wanted to work the phone bank, so we signed him up and gave him the county where my opponent lived. After the phone bank, I asked one of my staffers how it went. She said, "Not sure, but I would bet that every single person your Professor called is going to vote for you."