Alumni and others whose lives were touched share their memories and thoughts.
Claire M. DeMatteis, AS87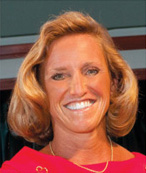 Dr. Soles commanded such respect in the classroom. His love and knowledge of history and politics were infectious. His investment in his students extended beyond the classroom and even graduation. Many—hundreds—of us were his lifelong students. We debated world events, plotted state politics and counted on him to help steer our careers. His timeless lesson to us was to "pass on" that commitment to being citizens of the world, and to always stay engaged in politics and public service.