Alumni and others whose lives were touched share their memories and thoughts.
Celia Cohen, AS74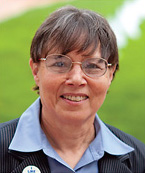 One day Jim Soles and I were having lunch at the old Crab Trap, a favorite haunt of his on Elkton Road, when he said there really ought to be a book about Delaware politics. I nodded, because of course he was right.
He said, "It has to be written by someone who knows Delaware politics," and I nodded again. That was a lot of people.
He said, "It has to written by someone who can talk to both parties," and I nodded. That was not as many people, but still a pool of them.
He said, "It has to be written by someone who has the energy," and I thought, "Uh-oh."
Five very hard years later, along with Jim's wise counsel, I had turned 20 years of experience covering Delaware politics as a journalist into Only in Delaware, an account of state politics from the end of World War II to the turn of the century.
I wrote it, but I have never thought of the book as mine. It's Jim's.