Helping first-graders become first-rate writers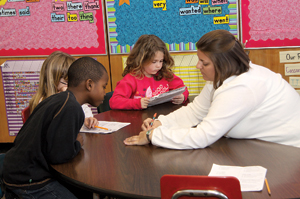 Photo by Mike Baker
RESEARCH | A classroom full of 6-year-olds sits expectantly in front of the teacher. After reading a story aloud, the teacher discusses how the author used specific words to describe the main character. She then asks the children to write their own story using the same kinds of words to describe a character.
This is just one example of an approach teachers might use to help first-graders learn to write. The question is: Does it work?
In an effort to determine the best methods to teach writing skills to first-graders, School of Education faculty members David Coker, Charles (Skip) MacArthur and Liz Farley-Ripple have started work on a four-year, $1.4 million grant from the Institute of Education Sciences.
Much information about how writing instruction is conducted in the primary grades comes from teacher surveys, which the researchers say provide some insights but are unable to show how variations in instructional methods and time devoted to instruction translate to student outcomes.
Through a partnership with the Christina and Red Clay school districts, the UD investigators will attempt to determine what kinds of instruction and what student skills are associated with writing achievement in first grade. They will observe, monitor and analyze the results of various teaching methods in numerous classrooms.
"We hope to be able to provide a detailed picture of what effective writing instruction looks like in first grade and which approaches are more effective for students with a specific set of strengths or weaknesses," Coker says. "Our long-term goals are to use this information to design a writing curriculum that allows teachers to differentiate instruction based on students' needs."