Studies may lead to safer food, less illness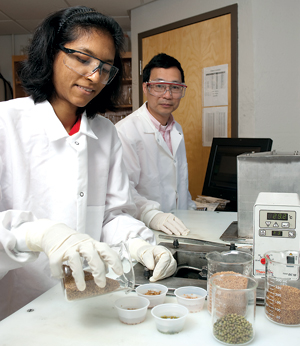 Photo by Kathy F. Atkinson
RESEARCH | College of Agriculture and Natural Resources scientists are continuing the fight against foodborne illness with the support of two grants totaling more than $5 million from the U.S. Department of Agriculture's National Institute of Food and Agriculture.
Haiqiang Chen, associate professor of animal and food sciences, is the project director for a team of researchers who are focusing on human noroviruses, which cause acute gastroenteritis and account for more than 50 percent of foodborne disease outbreaks. Other enteric foodborne viruses such as hepatitis-A virus and rotavirus will also be studied.
The goal is to identify effective non-thermal processing technologies to destroy the viruses in high-risk foods, such as shellfish and produce, and disseminate the knowledge through education and outreach. While thermal processing, which heats food to a high temperature to kill microorganisms and enzymes, is the most commonly used processing technology in the food industry, scientists have been working for the past three decades on non-thermal processing methods, which Chen says can better maintain the raw characteristics of processed foods.
In a second project, Kali Kniel, associate professor of animal and food sciences, is part of a team studying what she calls "the growing problem of fresh produce contamination by microbial pathogens." The long-term goal is to understand and characterize the mechanisms that allow foodborne pathogens to attach to and colonize plants.
The researchers say they are hoping the project will lead to a more effective use of antimicrobials and good agricultural practices, which will reduce the number of illnesses and other harmful effects on public health.