Gift provides support for students, faculty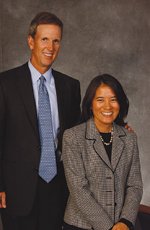 ON THE GREEN | A generous commitment of $2.5 million from Kenneth C. and Elizabeth K. Whitney recently provided additional support for the Whitney Family Scholarship and the Whitney Family Endowed Chair, both housed in the Alfred Lerner College of Business and Economics.
"We are so grateful for the Whitneys' investment and for their leadership," says UD President Patrick Harker. "We are honored to have Ken as a member of our Board of Trustees; as such, he has a keen understanding of the importance of this gift and the opportunities it will provide for our students and faculty."
Established in 2005 and significantly augmented with this gift, the Whitney Family Scholarship is awarded with preference to accounting or finance majors. The new gift also creates the Whitney Family Endowed Chair, for a talented scholar in the field of accounting.
"I was fortunate to attend UD," says Whitney, BE80. "I was able to get a solid foundation and build a successful career upon that. It is important to us that today's students, and future generations of students, have those opportunities."