Successful academic program expands its focus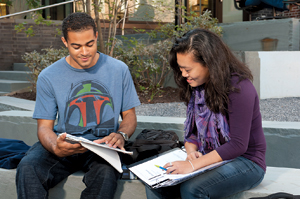 Photo by Kathy F. Atkinson
ON THE GREEN | For nearly two decades, a UD program for historically underrepresented science students has offered academic and mentoring support. Participants say the program has been so helpful that they've often wished their friends who are not science majors could make use of its services as well.
Now, they can.
Beginning this school year, the Network of Undergraduate Collaborative Learning Experiences for Underrepresented Scholars (NUCLEUS) program has expanded its mission to encompass a wider range of academic majors within the College of Arts and Sciences. Students in such fields as humanities, arts and social sciences now can join their peers who are majoring in the traditional NUCLEUS areas of science, technology, engineering and math or STEM.
Guiding the expansion are Jacqueline Aldridge, who in June began serving in a new position as assistant dean for access and academic development programs in the college, where NUCLEUS now is housed, and Rosalind Johnson, who is now the program's director. Aldridge served as the NUCLEUS program coordinator from 2006 until taking her new position.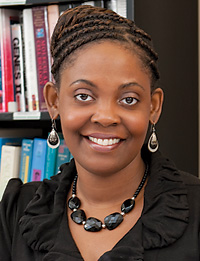 Photo by Evan Krape
Previously focused on students in the natural sciences, and particularly the life sciences, NUCLEUS began at UD in 1992 with a grant from the Howard Hughes Medical Institute to support undergraduate education in biological sciences.
"We've been phasing in the expansion since January 2010, doing outreach to let students and departments know that NUCLEUS is now a part of the College of Arts and Sciences and will be accepting students from the social sciences, arts and humanities, in addition to the natural sciences," Aldridge says.
"The vision and the support that NUCLEUS offers for STEM students will remain the same as before, but we'll be working to provide that same kind of academic support network to students in a broader range of disciplines."
She also notes that the college will be working with the Office of Undergraduate Research and Experiential Learning to expand undergraduate research opportunities and that she and Johnson will be expanding the NUCLEUS program's workshops and seminar series.
"Our community building will certainly increase," Aldridge says.
About 120 STEM students a year previously participated in the program. Aldridge and Johnson expect that number to more than double by the end of 2011-12. In addition to recruiting students in other majors, NUCLEUS is reaching out to the Associate in Arts Program, which allows eligible students to complete two years of UD coursework at various locations in Delaware and then have the option to finish their bachelor's degree at the Newark campus.
Beginning this fall, Associate in Arts students are being encouraged to join NUCLEUS when they transition to the Newark campus.
"This outreach is especially exciting," Aldridge says. "It's important to let these students know about all the academic support services that are available once they come to the Newark campus."
Aldridge and Johnson work in close partnership on day-to-day duties such as pre-career counseling, advising and mentoring students, helping them find resources such as tutoring, academic enrichment services, information about graduate schools and leadership and professional development opportunities. Peer-to-peer mentoring is a signature feature of the program as more advanced students help guide first- and second-year students as they define and pursue their academic goals.
"The aim of NUCLEUS is to diversify the pipeline leading to graduate school and careers requiring graduate professional degrees," Aldridge says. "This is not a student club; it's an academic support network."
Article by Ann Manser, AS73