Vehicle technology promises lower costs, cleaner energy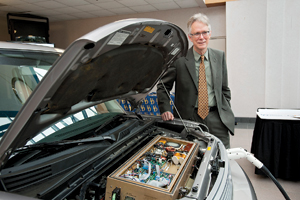 Photo by Evan Krape
ON THE GREEN | An electric-vehicle technology pioneered by Prof. Willett Kempton in the School of Marine Science and Policy is the basis for a new commercial partnership between UD and NRG Energy.
The technology, known as electric vehicle-to-grid or eV2g, will enable electric vehicle owners to sell electric storage services from the batteries of their parked cars to help stabilize the electricity grid. Kempton, who also is director of the University's Center for Carbon-free Power Integration, says this patented leading-edge technology has garnered worldwide attention and holds promise to transform the future of the electricity supply.
"Electric vehicle-to-grid technology is the next logical step in the electrification of our transportation network," says Denise Wilson, president of NRG's Alternative Energy Services. "Working in partnership with the University of Delaware, eV2g technology will for the first time offer a true two-way interface between electric vehicles and the electric grid."
The technology would allow vehicle owners to sell battery storage back to the electric grid while the vehicle is plugged in—at no inconvenience to daily driving needs.
"Energy research, including grid-integrated vehicles, is an important priority for the University of Delaware," says David Weir, director of UD's Office of Economic Innovation and Partnerships. "The strategic partnership between NRG and UD provides the opportunity to enhance energy security, facilitate integration of renewables and lower the cost of electricity."