Donors boost fundraising to new heights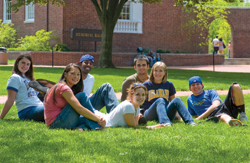 Photo by J Stewart
ON THE GREEN | President Patrick Harker opened the 2011-12 academic year with a significant announcement—the University reached a fundraising milestone with a record $51,353,282 in gifts, an increase of more than $10 million over last year and the largest single-year fundraising total in UD history.
"This is a tremendous accomplishment, but it isn't just about the money," Harker says. "It is about what has been put in motion. It is about the relationships that tie people to UD and keep them connected."
A hallmark of the Path to Prominence strategic plan is the dedication to renewing relationships with alumni and encouraging Blue Hens to remain committed to their alma mater long after graduation. New traditions such as the annual Alumni Weekend, as well as many other events and opportunities both on and off campus throughout the year, are designed to keep alumni informed, engaged and supportive.
The number of volunteers who are involved with the University also has grown substantially, from reunion volunteers who reach out to their classmates to those who share their time and expertise by serving on advisory councils. The University's base of support extends to non-alumni as well, including partners in industry, the military, government and research.
"It's an approach that's working," Harker says. "We are changing attitudes about UD and what it can accomplish. People are starting to notice."
Two significant areas benefiting from private support during the past year have been undergraduate scholarships and the Interdisciplinary Science and Engineering Laboratory (ISE-Lab), slated for completion in 2013.
Bob Deutsch, BE80, supported one of these major areas by establishing the Robert and Kathy Deutsch Scholarship, which funds out-of-state students with demonstrated financial need who are studying in the Alfred Lerner College of Business and Economics. "I received scholarship support as a student at UD, and it made a big difference to me," Deutsch says. "I wanted to be able to offer other students the opportunities I had, to help open doors through education."
Another donor, Rob Tullman, EG85, made a gift to support the ISE-Lab. "UD is building a state-of-the-art facility, a place for students and faculty to explore cutting-edge problems in an academic setting," he says. "As a business leader in the energy industry, I can't think of a more critical area to focus research."
Harker says such generosity makes him optimistic for the future, but he notes that in order to meet the University's long-term goals, this fundraising success must continue.
Article by Julie Russ, AS02