Seafood, science and sustainability at Coast Day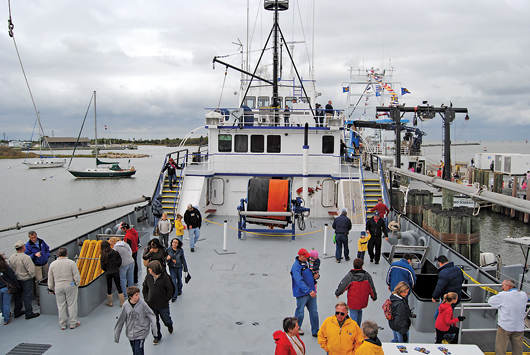 Photo by Sara Ohrel
ON THE GREEN | The promise of tasty seafood, educational lectures, informative ship tours and fun kids' activities and science demonstrations drew thousands of people to the University's Hugh R. Sharp Campus in Lewes for Coast Day 2011 in October.
"It was delightful to see so many people having fun while they learned about the work we do," says Nancy Targett, dean of the College of Earth, Ocean, and Environment and director of the Delaware Sea Grant College Program, co-sponsors of the annual event.
A 35-year tradition, Coast Day lets visitors learn more about the state's ocean and coastal resources as well as the work of the college's researchers, Delaware Sea Grant and their many partners. This year's event—with the theme, "It's About You"—particularly highlighted the role of coastal resources in benefiting public health, supporting the economy and providing for everyday needs.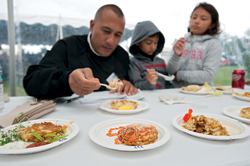 Photo by Evan Krape
Across the campus, visitors clustered around the marine critter touch tanks, boarded UD's research vessel Hugh R. Sharp, sampled seafood and attended lectures on everything from hurricanes to sea turtles to UD's wind turbine.
At the event's kick-off ceremony, Targett, along with U.S. Sen. Tom Carper, UD President Patrick Harker, Lewes Mayor Jim Ford and National Hurricane Center Director Bill Read congratulated the winners of two Coast Day contests for Delaware schoolchildren.
The fifth-grade essay contest winner was Shea Sweeney, a student in Marilyn Vallejo's class at St. Ann School in Wilmington. She wrote about the Brandywine River and ways to protect it, saying, "My goal for the Brandywine River is for people to be able to enjoy it for many generations."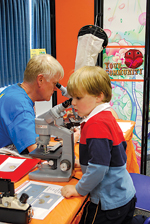 Photo by Lisa Tossey
Saleh Hamad of Caesar Rodney High School in Camden, Del., won the high school video contest for his entry, "How I Help My Environment." His teacher is Mary Stokes, and his winning video can be viewed at Delaware Sea Grant's YouTube channel: www.youtube.com/deseagrant.
Throughout the day, crowds of hungry visitors swarmed the seafood competitions for a chance to taste contestants' creations. "Carl's Stuffed Crab Cake" by Carl Zampini of Newark, Del., took first prize in the Crab Cake Cook-Off.
The annual Chowder Challenge face-off gave visitors a chance to vote for their favorite soup after a 2-ounce taste test. Once the votes were tallied, the Delmarva Chefs and Cooks Association took first prize over the First State Chefs Association. Jennifer Courville and Kahdeja Pirkle, both seniors in the Parkside High School Culinary Arts Program in Salisbury, Md., concocted the winning chowder recipe.
Coast Day visitors interested in music and maritime history were able to enjoy a concert by the Northern Neck Chantey Singers. Representing some of the last fishermen who participated in chantey singing, the group is dedicated to documenting and preserving the legacy of those who worked and pulled nets on menhaden fishing boats many years ago.
Finally, it's not too soon to save the date for next year's Coast Day, which will take place on Sunday, Oct. 7. For more information, visit www.decoastday.org or call (302) 831-8083.
Article by Ron Ohrel