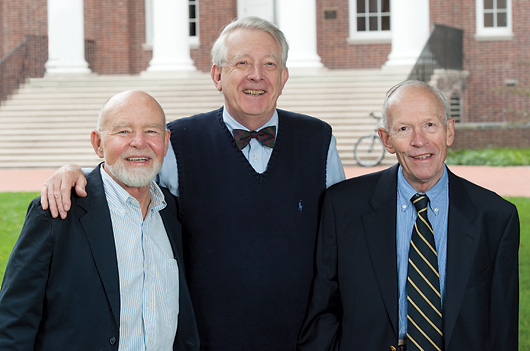 Photo by Evan Krape
Book of essays, 'Beasley Fete' honor former professor
ON THE GREEN | The Department of English held a special event this fall, dubbed "The Beasley Fete," in honor of Jerry Beasley, professor emeritus and former chair of the department.
The Oct. 13 gathering drew some 150 audience members to campus and featured a roundtable discussion of the publication New Contexts for Eighteenth-Century British Fiction: "Hearts Resolved and Hands Prepared," a collection of 13 essays in honor of Beasley. It was edited by Christopher Johnson, professor of English at Francis Marion University, who earned his doctorate in English at UD in 1991.
In addition to Beasley and Johnson, the roundtable included Profs. Charles Robinson, Don Mell and Matthew Kinservik of UD's English department and essay contributors Marta Kvande, AS02PhD, a faculty member at Texas Tech University, and Melissa Mowry, AS93PhD, of St. John's University.
In the audience was Mary Anne Schofield, AS79PhD, of Villanova University, who also contributed an essay to the book. Another contributor with UD ties, Susan K. Howard, AS91PhD, of Duquesne University, was unable to attend the event.
Beasley joined the English faculty at UD in 1969 and went on to spend his entire career in the department, retiring in 2005 after 36 years. He taught courses at all levels of the curriculum, while his research and graduate teaching focused on 18th century British fiction, including early women's fiction.
He is the author or editor of seven books, and over the years he published more than 70 articles and reviews in scholarly journals and collections. From 1987 to 1996 he served as general editor of The Works of Tobias Smollett, published by the University of Georgia Press.