Art gains audiences outside conventional galleries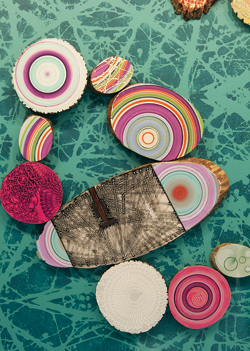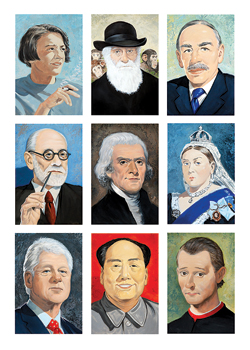 ON THE GREEN | "How can you make an image without the traditional paintbrush?" asks Robert Straight, professor of art.
The answer, for anyone familiar with his abstractionist paintings—known for their dense layers, vibrant colors, intricate surface patterns, detailed paint application and attention to nature—is perhaps best evidenced in an exhibit that has been on display at the Philadelphia International Airport.
In "A Modern Wilderness," a 20-by-8-foot display in Terminal C of the airport, Straight has forgone canvas and paper to create an elaborate series of paintings on thinly cut cross-sections of trees, the intact bark encircling the edges.
"The oval shapes and their systematic arrangements seem like clustered islands floating across the wall," says Leah Douglas, director of exhibitions at the airport. "Each painting features its own unique markings yet, together, there is harmonious interaction."
The airport specifically selects works by greater Philadelphia artists as "a service to our 31 million passengers," Douglas explains, and Straight's exhibit has drawn much attention and interaction.
"It is so colorful, so powerful, it's hard to miss," she says. "Children run up to see it, and families follow…. Like the natural world, Bob's elaborate hand-painted surfaces always provide something new to discover."
That was the goal for Straight, who spent a year creating the airport exhibit, which will remain on display until January 2012. "If you do something quiet," he says, "people don't notice it."
Illustrious illustrations
When commissioned by the Washington Post to paint eight larger-than-life historical figures—luminaries so provocative, so iconic, so influential that their names have gone on to become adjectives like "Machiavellian," "Clintonian" and "Victorian"— David Brinley set out to "give the portraits some personality."
The results produced by the assistant professor of art, which appeared in a two-page, full-color spread in "Outlook," the newspaper's opinion section, include a dejected Machiavelli, a powdered-nosed Sigmund Freud and a cigarette-smoking Ayn Rand.
The accompanying article, "What's in a Name … and What Isn't," looks at the historical accuracy of such grandiose adjectives and concludes, "These famed few rarely lived up to their own hype."
Whether examining Freud's battle with cocaine addiction or Rand's period of insecurity and depression, Brinley's illustrations—simple, somber and intricately nuanced—offer unique depictions of history's largest personalities.
Due to the nature of editorial illustration, Brinley had to complete the series of paintings within a week, striving to paint two a day once the sketches were approved. Still, it was Clinton who took a bit longer. He drew two illustrations of the former president, he says, but the first, "a thinner, vegan-diet Clinton," didn't reflect the image of a man whose politics spawned the term "Clintonian."
"I wanted more of the '90s, chubbier, Ronald McDonald-influenced Clinton," Brinley says, but adds, "He still had to look presidential, which is why the image is shown from below, giving prominence to his stature."