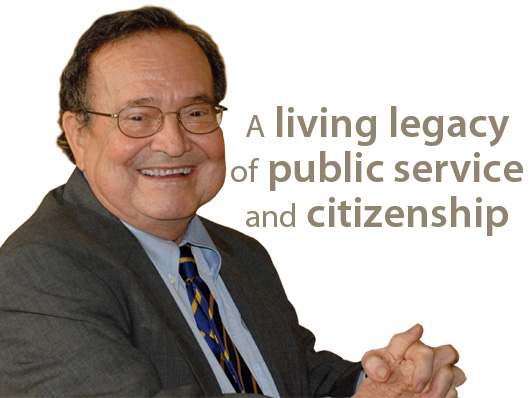 When Vice President Joseph R. Biden Jr. came to campus in September to deliver a lecture in celebration of national Constitution Day, the University's most famous alumnus shared the spotlight with one of its most beloved and admired professors, the late Jim Soles.
Biden's talk was the first in what will be an annual James R. Soles Lecture on the Constitution and Citizenship, named in honor of the late Alumni Distinguished Professor Emeritus, who taught political science at UD from 1968 until his retirement in 2002. Prof. Soles, who died in October 2010, specialized in teaching courses on American government and public law but is best remembered for mentoring countless students and instilling in them a passion for civic engagement and public service.
In introducing the inaugural Soles Lecture, Joseph Pika, who is the University's James R. Soles Professor of Political Science and International Relations, said Prof. Soles was "a mentor for scores of UD alumni, inspired hundreds more and was the most memorable teacher that thousands of students ever encountered."
His legacy continues through the generous donations of alumni and friends, who established the James R. Soles Citizenship Endowment to honor Prof. Soles and his lifelong commitment to public service.
The endowment supports the Soles Undergraduate Citizenship Stipends, which allow political science and international relations majors to take part in special civic participation projects or service internships; the Soles Graduate Fellowships in Political Science, which assist graduate students planning public service careers; and the Soles Professorship in Political Science, which was awarded to Pika in 2008.
The Soles Lecture on the Constitution and Citizenship will be sponsored annually by the Department of Political Science and International Relations as UD's official recognition of the approval of the U.S. Constitution on Sept. 17, 1787. The lecture will feature a public address by a prominent individual and an opportunity for students receiving support from the Soles Endowment to meet and interact with former students of Prof. Soles, many of whom are now working in public service at the local, state and federal levels.
"Colleges and universities across the nation strive to create graduates who are lifelong learners," Pika said at the lecture. "Lifelong learners, it turns out, need lifelong teachers, and Jim Soles was just that sort of committed teacher. He continued to answer the questions of scores of UD grads well after they had left the campus—questions about politics, about careers and about life."
Biden, who graduated in 1965 and so was a student at UD before Prof. Soles joined the faculty, spoke of his wide-ranging impact, well-known throughout the greater Delaware community.
"Governors, senators, judges, state legislators all passed through Jim's office," Biden said. "Jim influenced an entire generation of public servants. That's his legacy, a living legacy."
UD President Patrick Harker also spoke briefly before Biden's lecture, thanking the wide network of friends who have supported the Soles Citizenship Endowment as a way not only to honor Prof. Soles but also to extend his commitment to public service to current students. "You're enabling a powerful legacy of devoted civic participation here in Delaware and across this nation—a legacy that surely Jim would have wanted most in the world," Harker said.
Twice a recipient of UD's Excellence in Teaching Award and a winner of the Excellence in Advising Award and the University's Medal of Distinction, Prof. Soles was named the first Alumni Distinguished Professor. The position was created to recognize outstanding teaching and mentoring.
Prof. Soles was married for more than 50 years to the late Ada Leigh Soles, who died in June 2010 and was a respected civic leader and Delaware state legislator, as well as a former academic adviser at UD.
"No faculty member I have known has ever had a greater influence on the academic and personal lives and careers of so many UD members," says James J. Magee, professor of political science and international relations. "His unique and profound impact can never be overstated and is unlikely ever to be duplicated."
Lecture praises diverse views of founders
From the moment the U.S. Constitution was written, its meaning has been fiercely debated, but in the end it provides the principles and mechanisms for political compromise and the path to progress, Biden said in delivering the Soles Lecture.
"The true accomplishment of our founders was not that they spoke with one voice" but that they brought together many voices to forge the Constitution, the vice president said. "That is the genius of the document."
The audience filled the 650-seat Mitchell Hall while other students, faculty and friends watched on television screens around campus. Guests included Biden's wife, Jill Biden, who earned bachelor's and doctoral degrees at UD; other members of the vice president's family; family, friends and many former students of Prof. Soles; and a host of dignitaries, including U.S. Sens. Tom Carper and Chris Coons and Delaware Gov. Jack Markell.
"The Constitution doesn't provide certainty," Biden said, adding that the founders knew they couldn't create a document that would settle all questions that might ever arise. "But they could be settled by the institutions to which the Constitution gave rise."
Political disagreements and, eventually, compromises have moved the nation forward throughout its history, Biden said, with the Constitution holding out the promise that every voice in a diverse society can be heard and blended together.
Ann Manser, AS73