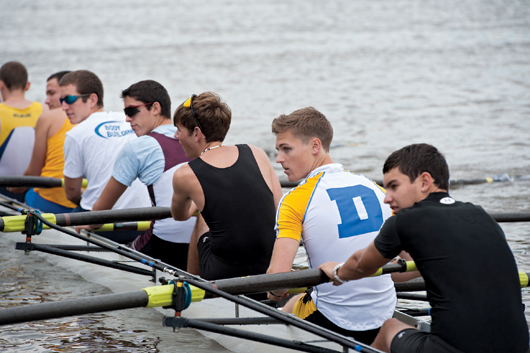 Photos by Evan Krape
Rowing on the river
Boat dedication, races celebrate two decades of men's crew
ALUMNI | The men's crew program celebrated the club's 20-year anniversary in October with a special boat dedication ceremony at its sixth annual Alumni and Family Day on the Christina River in Wilmington, Del.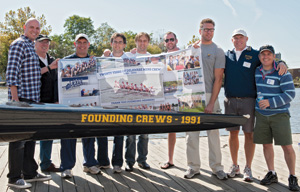 More than 150 alumni, parents and friends of the team came to the Wilmington Youth Rowing Association boathouse for the get-together, which also featured races pitting current rowers against alumni.
"These guys were instrumental in getting the program up and running and establishing UD as a credible rowing institution," head coach Chuck Crawford said of the early alumni. Crawford was also the original head coach of the men's program in fall 1991, after helping start the UD women's rowing team in spring 1990.
At the reunion in October, the team dedicated a previously unnamed "eight," an eight-man boat with coxswain, to the "Founding Crews—1991." Nine of the original members of the crews were able to attend the event, with many of them traveling from all over the East Coast, while the original coxswain, Tim Kennedy, BE94, came from London.
"I think that it's very important that we recognize the impact that these alumni had on our program, and remember our humble beginnings," said Shawn Duff, BE08, president of the UD Men's Crew Alumni Association. "Naming a boat after a crew, class or individual is one of the highest honors in rowing, and they are well deserving of it. The race results that they produced in such a short period of time are simply amazing, and it's a testament to the sacrifice and dedication of the rowers as well as Coach Crawford."
The program started with eight rowers and one coxswain, enough to field one boat in fall 1991. By spring 1992, the roster had grown to 20 student-athletes, and the team also raced a lightweight eight. Today, the roster features more than 60 rowers, racing both heavyweight and lightweight squads, with freshman boats in those weight classes as well.
"After 20 years from when the program started, it's great to come back to Delaware and see how the team has grown and developed into one of the premier rowing teams," said Scott Milsom, EG94, the club's first president. "It was also great to see so many of the alumni who were integral in establishing the foundation of today's team. Coach Crawford continues to dedicate his time and expertise and has truly been the backbone of the program."