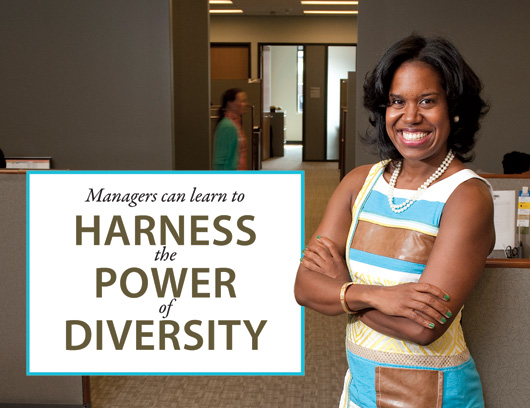 Photo by Kathy F. Atkinson
ALUMNI | While most of us master the art of "playing well with others" by kindergarten, many people could benefit from a refresher course during our adult years.
As the workplace has become more diverse, with people from different backgrounds interacting and working together to get the job done, having employees who "play well with others" is critical to organizational effectiveness. Thankfully, I am in a position to help business leaders understand how to leverage the diversity that exists in their workforces to achieve higher levels of productivity and performance.
I was able to experience firsthand the importance of employees working effectively together when I began work as a financial analyst after graduating from UD. Later, I reflected on two questions: What do I love to do, and what am I best at? The answer to both of these questions was "school," and it was at this point that I decided to enter a doctoral program in management.
Although the umbrella of "management" is very broad, I was interested in the study of organizational behavior and human resource management. I realized that it was in these fields that researchers studied the attitudes and behavior of employees and the effects on organizational functioning and performance. More importantly, this was where I could learn about group processes and why certain teams outperformed others at the bank.
Today, as a professor, I wear many hats. I am a researcher, who looks at things in the business world and attempts to explain how or why they happen. For example, we often hear about the benefits of diversity in organizations—in particular, how having women and minorities in leadership can enhance organizational performance. However, with a background in finance, I wanted to know what the specific performance benefits are. I conducted a study of the Fortune 500 to explore whether firms with more diverse management teams had higher performance.
Interestingly, the results showed a complex (U-shaped) relationship between diversity and performance. Firms with a low representation of minorities on their management teams experienced lower financial performance than those that had more racially balanced management teams. Thus, I found that the true power in diversity was in incorporating the varied ideas and perspectives that exist in the team into organizational processes and decision-making.
While the findings of my research are often published in scholarly journals, my role as a teacher allows me to use my findings in training current and future business leaders. I teach courses on talent management at the undergraduate, graduate and executive levels.
I tell managers who view diversity as a goal in itself that they aren't seeing the whole picture. If you want a world-class workforce, and talented individuals are randomly distributed throughout humanity, then if you hire the best and brightest, diversity should automatically follow.
But a lot of organizations aren't diverse, and some of that is because recruiters—even if they don't realize it—can be biased in favor of people like themselves. I've had recruiters on campus tell me, "I don't know what it is about that student, but he or she just seems to get it." Sometimes, however, it's not the student's qualifications that are impressive; it's that the student reminds the recruiter of himself or herself. I call that the "fantastic bias," because we all secretly think we're pretty fantastic and that people who seem to be like us are fantastic, too.
It's not usually intentional. People just need to stop and think: What basis are you using for hiring? If you focus on knowledge, skills and behavior rather than intangibles, you'll have a better and more diverse workforce.
In addition to teaching, what I really love about my job is the opportunity to learn from my students about current business trends and issues.
I especially enjoy the opportunity to work with, and learn from, people around the world. After achieving tenure at Cornell University, I spent six months as a visiting professor at Bocconi University in Milan, where I was invited to return each year to teach in the university's executive master's program. I also teach annually in a business program for agricultural small business owners in South Africa and spent time as a visiting researcher in Melbourne, Australia. These opportunities have helped me to not only see the world but also better understand how people can effectively collaborate and cooperate across countries and cultures.
The opportunity to consult with businesses on their diversity and other talent management practices also helps me feel that I am making a positive impact on organizations. I have also had the chance to serve as an expert witness in high-profile employment discrimination cases with the goals of improving how employees are treated in organizations.
Who knew that a kindergarten lesson on "playing well with others" would lead to all of this?
Article by Quinetta M. Roberson, BE92