Former students welcome newcomers to campus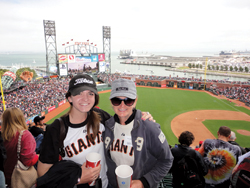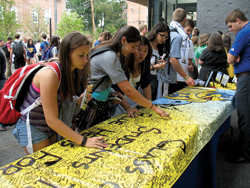 ALUMNI | While the campus prepared last summer to welcome the Class of 2015, alumni were already making sure the newest Blue Hens felt part of the UD family.
New Blue Hens were treated to festive sendoffs from coast to coast in advance of the opening of the fall 2011 semester. Planned by UD's regional alumni clubs, the Office of Alumni Relations and the Office of Admissions, sendoffs were held in Baltimore; Washington, D.C.; Demarest, N.J.; Hermosa Beach, Calif.; San Francisco; Berwyn and Reading, Pa.; and Weston, Fla., entertaining more than 130 alumni, students and parents.
Anne Barretta '83, a UD Alumni Association (UDAA) board member and Volunteer Admissions Support Team member, joined Richard Greenberg '77 and his wife, Teresa, to host the event in New Jersey.
"This new-student welcome event was so meaningful on many levels," Barretta says. "My daughter, Justine, is … the fourth generation of my family to attend UD. In addition, it's so important to engage students in alumni affairs before they graduate, to celebrate our traditions and to foster a lifelong relationship with the University."
Alumni also connected with students when they arrived in Newark.
Members of the Class of 2015 had the opportunity to sign their class banner, sponsored by the UDAA, at several events during their first few days on campus. Carle Foster '86, chair of the UDAA outreach committee who attended the signing events, says he was pleased to see so many students getting involved with the UD community.
"I was so happy to see the enthusiasm shown by the Class of 2015 regarding signing their class banner," Foster says. "It's important for all students to understand that being a Blue Hen is about more than just the four years you spend on campus." Attending the events with him was his wife, Kathy Riley Foster '88. Their daughter, Allie, is a member of the Class of 2015, studying athletic training.
Lauren Simione '95, assistant director of alumni relations, estimated that more than 2,500 freshmen signed the banner.
"It was great to see so many new Blue Hens jump at the chance to literally make their mark on behalf of their class," Simione says. "Like the Class of 2014, this class showed an incredible enthusiasm for the opportunity to sign their class banner."
The banner will be displayed in the student centers throughout this school year, at class events over the course of the next four years, at Commencement in 2015 and at class reunions.
The offices of Alumni Relations and Annual Giving helped encourage UD spirit during National College Colors Day on Sept. 2 by giving out "blue" and "gold" lemonade and class stickers to students who spun a UD Trivia Wheel.
Finally, Alumni Relations and the Student Alumni Ambassadors hosted their first "Make and Take" event, which gave students the chance to take a break and show off their artistic talents by decorating picture frames and note cubes with UD materials while relaxing with friends.
"Connecting students with alumni and vice versa is an essential part of what makes the UD community great," Simione says. "We are always looking for new ways and ideas, so I encourage all alumni and students to let us know their thoughts on how to make UD stronger."