A talent for managing talent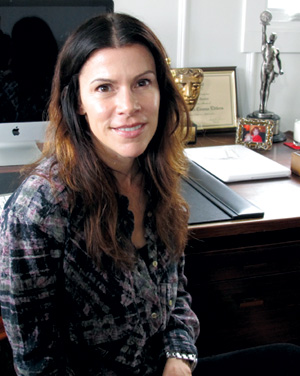 ALUMNI | Today she manages some of the most talented directors in the film industry, but when Susan Murphy, AS89, graduated from UD, she had little idea what direction her career would take.
Murphy gives luck a lot of credit for the series of events that took her from her hometown in New Jersey to her life today in Los Angeles as head of the West Coast management division of Anonymous Content. The production and management company matches directors, writers and actors with film projects ranging from commercials to full-length feature films.
Right after Commencement in 1989, when two of Murphy's closest friends from UD decided to move to New York City, she wasn't about to be left behind. Spontaneously, she followed them and used the skills she had learned as a communication major to land herself a job as an assistant to a creative director at a high-profile advertising agency.
"I really got lucky," Murphy says. "It was an excellent agency. I could have worked for a low-profile, dinky little agency, but I ended up with a terrific agency, and through a New York City story I just kind of pingponged."
She spent the next few years "pingponging" her way through New York City, building relationships and gaining experience. Through her contacts, she eventually moved over to the production side of advertising, collaborating with directors on commercials and short films.
Today, Murphy's role has shifted again, to talent representation, promoting the work of commercial directors and facilitating an ad campaign's evolution from concept to reality. She represents several big names in the industry, including David Fincher, who directed The Social Network and Fight Club, and Mark Romanek, who directed the movie One Hour Photo as well as music videos for artists such as Jay-Z and R.E.M.
"I'm incredibly lucky," Murphy says. "I work with directors who have been successful for years doing feature films, videos and commercials. It's really inspiring to be involved and see how their minds work."
She met her husband at a client dinner and has been married now for nearly eight years to internationally acclaimed Australian film editor Kirk Baxter.
Shortly after the couple married, Murphy gave birth to their daughter, Bronte, and the family moved from New York to Los Angeles so Baxter could make the shift from commercial to feature film editing. The move paid off. After working on films including Zodiac and The Curious Case of Benjamin Button, Baxter recently won the 2011 Best Achievement in Film Editing Oscar for The Social Network.
Despite her husband's work on that film, social media is not necessarily second nature to Murphy. In fact, she recounts how she took three years off to stay home with Bronte—a time when technological change was accelerating at a rapid pace.
"I couldn't believe how far technology had gone since I was away," she says. "I really had to acclimate myself quickly to keep up with it.
"I started in this business before the Internet, before cell phones, before email. It was a much smaller, much more social business and lifestyle. Now it's all sending links out and websites—we're lucky if we get a lunch here or there. It's totally different."
Article by Christina Heritage Jones