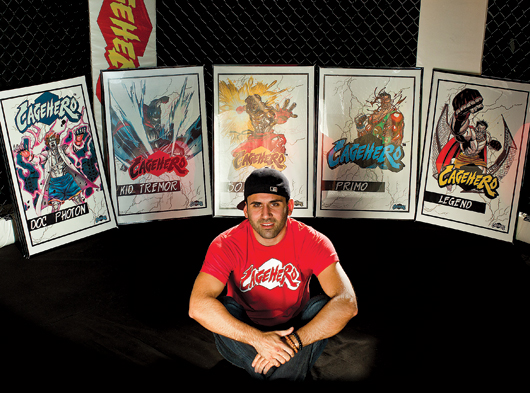 Young entrepreneur fights to build his brand
ALUMNI | Students in an entrepreneurship class in the Lerner College recently heard from Mark Mastrandrea, BE08, who discussed some of the challenges he has faced as the owner and CEO of a specialty apparel business.
His company, Cagehero, is a mixed martial arts (MMA), comic book-infused apparel brand based in New York City. During his visit to campus, Mastrandrea told students not to be afraid to follow their dreams.
"The mantra 'Follow your passion,' one of the Cagehero signature lines, explains my life," he said. "When I graduated, I felt a little lost but eventually found my way by aligning my passion for MMA into a business. Work isn't work for me. Every day, I wake up and do what I love."
Mastrandrea also discussed the business ventures he tried during his student days. He ran a T-shirt company in his junior year that sold apparel out of National 5 and 10 and Flavor and to various fraternities, he tried out a delivery business in his freshman year, and he organized assorted bus trips.
After graduation, he moved to California, where he worked in sales for a variety of eco-friendly companies, he said, but he didn't find the jobs stimulating enough and began to seek alternatives. "I needed to work on my own project, something I was passionate about," he said. "I pitched a potential partner on a DJ website in New York and never went back to California."
Mastrandrea didn't have immediate success, though. After six months of developing the Cagehero concept, he ran up against the issue of funding.
"It was really hard to raise money," he said. "Things grew harder when my partner passed away. Months went by, but I never gave up. I eventually received funding for Cagehero from an angel investor. Hard work always pays off.
"What started as an apparel company is now becoming a brand stretched across other verticals in the entertainment space, such as a comic book and online web series. Whatever industry we are in, the message will always be the same—to inspire people to follow their passion and believe in their dreams."
Jim O'Neill, professor of economics who instructed the entrepreneurship class, said Mastrandrea's story was a great one to help students understand the economic forces that influence new and developing businesses.
"Mark had a very interesting story to tell," said O'Neill, who also is director of UD's Center for Economic Education and Entrepreneurship. "The students learned a lot from the experiences he shared about networking, building a brand and venture capitalism."
Students in the class agreed, with many saying the talk was encouraging to would-be entrepreneurs.
"Not only was it inspiring to see that Mark graduated from UD, it was inspiring to see that he has been able to achieve success and happiness at such a young age through starting his own business," said Nicalia Thompson, a marketing major. "He definitely got across the message that it is possible to wake up every day to a job that you are passionate about."
Article by Kathryn Marrone Meier, AS04, BE06M