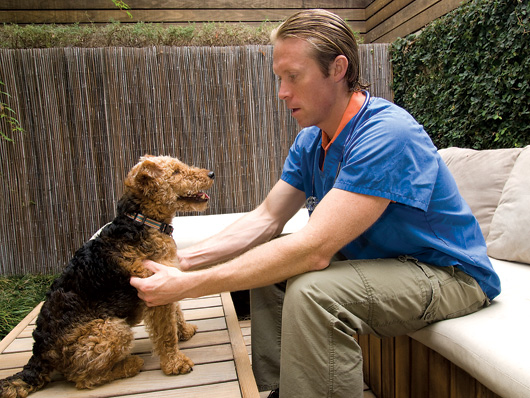 East meets West in innovative pet care
ALUMNI | Not satisfied with solely studying conventional Western veterinary medicine, Patrick Mahaney, AG95, decided that he needed to find something to set himself apart from other vets.
By blending his knowledge of Western medicine with Eastern healing practices, he now uses what he says is the best of both worlds to treat his pet clientele, most notably utilizing pet acupuncture.
Through his Los Angeles-based practice, California Pet Acupuncture and Wellness (CPAW), Mahaney makes house calls to his clients, some of whom are celebrities, and integrates Western and Eastern veterinary perspectives.
Mahaney explains: "From the Western perspective it's very conventional, such as surgery or medications, and from the Eastern perspective there are supplements, herbs, acupuncture, acupressure, environmental and lifestyle modifications—all those things that can come into play.
"I'm integrating the Western perspective, which is the perspective in which we're all trained in veterinary school, with traditional Chinese veterinary medicine, which is an Eastern perspective. In fusing the two of them, I can look a little differently at where the disease comes from and the way it can be treated."
Pet acupuncture, he says, is similar to its human counterpart and can be used in animals to control pain associated with arthritis, disc disease or illnesses such as cancer. Of course, the pets can't make the decision to receive acupuncture for themselves, and Mahaney notes that the owners often decide to bring their pets to him if they've had acupuncture themselves.
"It's funny how when all else fails, that's usually when acupuncture is brought in," he says. He also stresses healthy eating to his clients, noting the importance of avoiding the commercially processed food that most pets eat throughout their lives.
Though his journey led him to pet acupuncture and integrative veterinary medicine, that's not where it stopped. In fact, that only served as the jumping-off point for Mahaney's global veterinary and blogging adventures.
After he recently took an eye-opening two-week trip with Amazon CARES (Community Animal Rescue Education and Safety) to a remote region of Peru, Mahaney decided that showing Americans how vets interact with pets in other parts of the world, notably developing countries, would make for a terrific documentary-style television program. He is now in the midst of creating a pitch for such a TV show, which can be seen on YouTube.
During the trip itself, he says, the volunteers traveled to remote communities on the Amazon to set up a mobile clinic for such procedures as spaying, neutering and treating for parasites. The situations were a challenging way to work, he says: "We wouldn't have inhalant anesthesia or oxygen or IV fluids, and we'd be doing our surgeries on pool tables covered with plastic or on makeshift surgery tables that we would put together."
Mahaney has also taken up the art of writing. He's at work on a book tentatively titled The Uncomfortable Vet, and has written for numerous publications, such as the University of Pennsylvania alumni magazine, Veterinary Practice News and The Daily Vet on the website PetMD.
He contributes to four blogs, including the personal one on his website, Patrickmahaney.com, and recently has been writing for Perez Hilton's dog Teddy's blog, TeddyHilton.com. There, he answers questions about pets.
Intrigued by the concept of celebrities and their pets, Mahaney also started a website called "Celebrity Pet News," where he lends his perspective on particular issues that involve celebrity pets. He also has started a blog on his own website for his dog, Cardiff, which he updates frequently with "first person" observations.
Article by Adam Thomas