Engaging activities encourage prospective engineers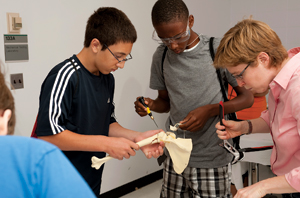 Photo by Kathy F. Atkinson
ALUMNI | A highlight of the most recent Engineering Cool Stuff summer camp, designed to foster the budding interests of would-be engineers, was a biomechanical component led by a University alumna and new faculty member.
Jennifer Buckley, EG01, named an assistant professor of mechanical engineering this academic year, joined in the hands-on summer camp for youngsters ages 12-15. Participants in the day camp, sponsored by UD's Engineering Outreach, use teamwork, basic engineering principles and math and science knowledge to design, build and experiment in the same way that professional engineers do.
For its sixth year of operation, the camp brought back some popular activities from previous summers and also added some new ones, including Buckley's session on virtual orthopedic surgery. Campers formed small teams to repair prosthetic shoulders, simulating a real-world experience shared by mechanical engineers and orthopedic surgeons as they work closely together to develop efficient and safe orthopedic implants.
The activity is an outreach program of The Perry Initiative, an organization founded in 2008 by Buckley and Dr. Lisa Lattanza, an orthopedic surgeon. Its mission is to expand the number of women engineers by running workshops to help girls who are interested in engineering gain a better understanding of the industry's opportunities.
"Girls want to help make a difference," Buckley says. "We want to show that engineering can make an impact."