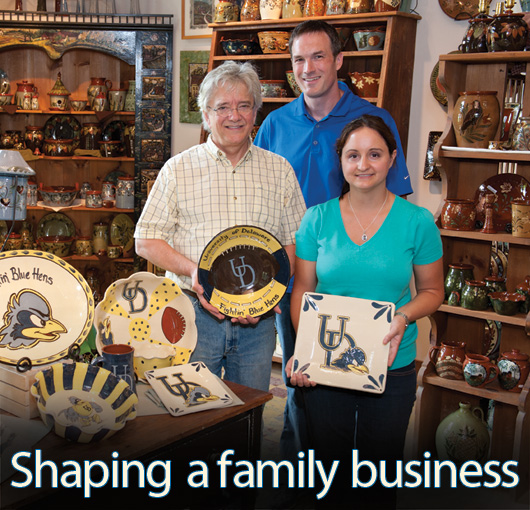 ALUMNI | Almost 40 years ago, Dave Eldreth started a small pottery business with a load of clay that he picked up in his 1972 Ford Pinto and crafted on a potter's wheel made from an old Maytag washing machine. His wife and best friend, Faye, became his business partner, and the couple grew Eldreth Pottery in their basement while also raising twin daughters.
Now, one of those daughters, Diana, is carrying on the Eldreth tradition of husband and wife as business partners as she runs the pottery with her husband, Whitney Chute.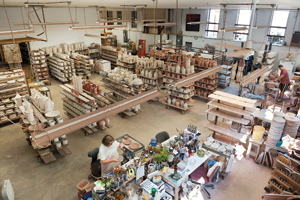 Photos by Evan Krape
Both 2000 graduates of the College of Arts and Sciences, the pair met in a psychology lab, where they were doing undergraduate research for Prof. Mary Dozier. Diana initially intended to earn a doctorate in behavioral science and pursue a career in research, but when her parents talked about selling the pottery a few years ago, she and Whitney knew it was time to change their plans.
"I hated the thought of selling the business," Diana says. "We had people who had worked for us for 20 years, and it was sad to think about what might happen to them if someone else took over."
For Diana, the move to the pottery wasn't a big leap. She had grown up in the business and, with her sister, had sold her father's "seconds" from a small roadside stand when she was a child.
Whitney, who had gone on to earn a master's degree in business at the University of Baltimore, was ready too. "Everything just came together for us," he says. "By 2006, we were working for the pottery full time."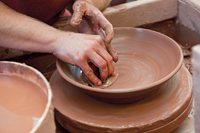 Skilled artisans at Eldreth's headquarters in rural Oxford, Pa., hand-make salt-glazed stoneware and redware plates, bowls, mugs, lamps, pots, birdhouses, wedding crocks and other unique items including Santa figurines, jack-o-lanterns, rabbits, cats and even vessel sinks. Recently, the company has ventured into jewelry, and Diana is learning the art of metal smithing.
"We're continuing to expand our line of products to help us get through the bad economy," Whitney says. "Having a broad range of items helps, and we're always trying out new things to see what works."
The success of that strategy is due at least partly to the creative freedom they afford their employees. "We allow our artisans to create new designs and colors so that we always have a fresh, diverse line of products," Diana says. "That creative freedom, along with flexible schedules, is a business philosophy I learned from my parents, and I think it really works."
There is a division of labor between the married partners, but as with most small businesses, it can be hazy. Diana is in charge of marketing and business growth, while Whitney focuses more on the financial aspects of running the pottery. Diana also has more involvement in the artistic side, including the design of the company's salt-glazed Santas.
"They let me make the snowmen," Whitney says, "which is perfect for me because they're supposed to look like they were designed by a child. Even I can stack up three balls of clay, but I leave the faces for someone else to do."
In addition to Eldreth's retail outlets—in Strasburg and New Hope, Pa., as well as at the studio in Oxford and soon at the UD Bookstore—the company does a lot of custom work, including logo merchandise for organizations ranging from Sturgis Pretzels to the March of Dimes.
This fall, Eldreth debuted a special line of University of Delaware-themed redware pottery for UD President Patrick Harker to offer as gifts. One of Diana and Whitney's proudest moments came when Vice President Joe Biden received one of their UD plates.
"We both had great experiences at UD," Diana says, "so being commissioned to design and create this special line of pottery for our alma mater was a big honor. And knowing that the vice president of the United States, who is also an alum, had received one of our plates really meant a lot to us."
Article by Diane Kukich , AS73, 84M