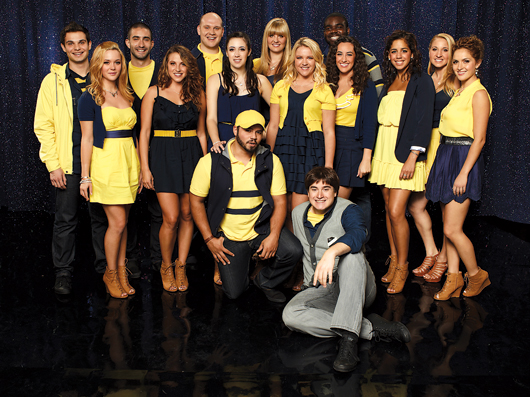 Deltones take the spotlight on TV competition
ALUMNI | In May 2008, Jessica Carvo sang Randy Newman's "Feels Like Home" as her "senior song" in what she thought would be her last performance with The Deltones, a student-run a cappella group that formed in 1991.
She never dreamed that she'd be singing that same song on national television three years later as The Deltones made their debut on NBC's The Sing-Off. "We all watch the show, and everyone in the group at one point said we should audition for this," recalls Avi Amon.
Lo and behold, it was the middle of the night last summer when senior Andrea O'Neill got a call from Keith Abrahamson—The Deltones had been selected from hundreds of groups across the country to compete on the televised a cappella competition.
"It all happened really quickly," says O'Neill, who is the current president of The Deltones. The group needed all 15 members to compete, but not all of the current Deltones were able to make the trip to Hollywood. Being in close contact with their former members, O'Neill says, they called on some "Alumnitones" to join them.
"I was pleasantly surprised and truly honored to be asked to come back and compete on the show," says Carvo, who now is a professional singer with Bell'Aria in New York.
After being selected for The Sing-Off, The Deltones were suddenly thrust into the glitz, glamour and grunt of the celebrity scene. "From the time we got to Hollywood, we started learning opening numbers with different variations and choreography," Amon says. "Then there is wardrobe, makeup, photo shoots and so many other pieces in addition to vocal rehearsals."
However, Amon says, when The Deltones finally took the stage for the group's season premiere, the chaos subsided and, "It was a truly special moment that I will always remember."
The group survived its debut with Carvo's solo "Feels Like Home." Judge Shawn Stockman of Boyz II Men called the performance "really moving and emotional."
In the group's second appearance, The Deltones took on what members call the greatest challenge: Gaga. The group elected to perform Lady Gaga's "Edge of Glory."
"It was a pretty cool moment for us because that was the first time The Deltones has ever done major choreography," Amon says. "There were crazy lights and choreography. We were really rocking out, and our soloist—Cortney Penta—was killing it."
After making it through two more rounds to the top 10, The Deltones were eliminated midway through the season, performing "Goodbye to You" for their farewell song Oct. 17. While they could not help but feel some disappointment, all the members agree it was an experience they will never forget.
With their motto "Friends first, singers second," Carvo says her love of music has grown through this experience, and now more than ever, she feels closer to The Deltones. "Competing on The Sing-Off was like being back in The Deltones for an entire semester," she says. "Who gets to have an experience like that?"
Article by Meredith Chapman, AS07