Alumni invited to compete in annual business contest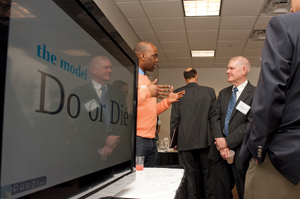 Photo by Kathy F. Atkinson
ALUMNI | To support innovation in the UD community, the Entrepreneurial Studies (E-Studies) Program is expanding its annual venture funding competition to include alumni, faculty and staff at its spring 2012 event, now known as Hen Hatch.
The three-stage competition, which involves everything from written business concepts to venture funding pitches, will for the first time boast two competitive tracks—one for students and one for alumni, faculty and staff. Up for grabs for the winners are prize packages of cash and in-kind services with a total value of more than $40,000.
"Community response to the creation of Hen Hatch has been overwhelmingly positive," says Dan Freeman, faculty director of the E-Studies program. "Because of industry support, we're excited to be able to offer generous prizes that will support innovation and startup ventures."
The idea for the two-track option emerged from collaborative work between the E-Studies program and UD's Office of Economic Innovation and Partnerships.
"The inclusion of this second track reflects our joint commitment to support all members of the Blue Hen family who have entrepreneurial aspirations," Freeman says. "It also reflects our shared vision of establishing a vibrant entrepreneurial community centered around the University of Delaware."
Participants will compete in three stages: the submission of a three-to-five-page business concept; the development and presentation of full venture-funding pitches by 10-12 competitors in each track who submitted the best concepts; and final, refined pitches by those who presented the three best initial pitches in each track.
Final presentations for Hen Hatch 2012 will be part of the University's annual President's Forum on Innovation and Entrepreneurship, tentatively scheduled for Thursday, April 19.
For information about deadlines, requirements and judging, visit the E-Studies program website at www.udel.edu/e-studies.