Energy researcher awarded presidential national medal for technological innovation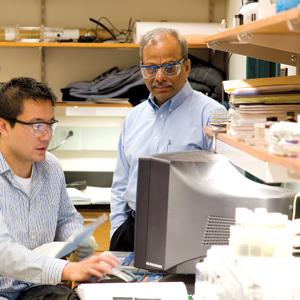 Photo courtesy of Purdue University
ALUMNI | Rakesh Agrawal, EG77M, a member of the chemical engineering faculty at Purdue University, is one of five individuals named by President Barack Obama as recipients of the National Medal of Technology and Innovation.
Administered for the White House by the U.S. Department of Commerce's Patent and Trademark Office, the award is the nation's highest honor for technological achievement and recognizes individuals who "have made lasting contributions to America's competitiveness and quality of life and helped strengthen the nation's technological workforce."
Agrawal was selected for "an extraordinary record of innovations in improving the energy efficiency and reducing the cost of gas liquefaction and separation." The Winthrop E. Stone Distinguished Professor of Chemical Engineering at Purdue, he conducts research focused on renewable energy, including improving the conversion of biomass to liquid fuels, low-cost solar cells and energy systems analysis.
Agrawal earned his master's degree in chemical engineering from UD in 1977 under the advisement of Stanley I. Sandler, Henry Belin du Pont Chair of Chemical Engineering. In 1995, he received UD's Presidential Citation for Outstanding Achievement.