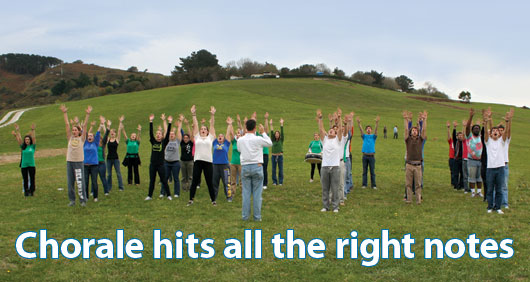 Photos by Zach Hook-Bluett and Katlyn Lucio
Students who make up the University of Delaware Chorale say their trip to an international choral competition in Spain last fall was so inspiring and transformative that the four awards they brought home were almost beside the point.
The Chorale won three second-place awards and a third-place award at the 42nd International Tolosa Choral Contest in the Basque region of Spain, placing in every category in which it competed against more than 20 choirs from around the world. One of only two U.S. groups that participated, the University Chorale was invited because of its 2007 first-place award at the 10th International Choir Festival in Tallinn, Estonia.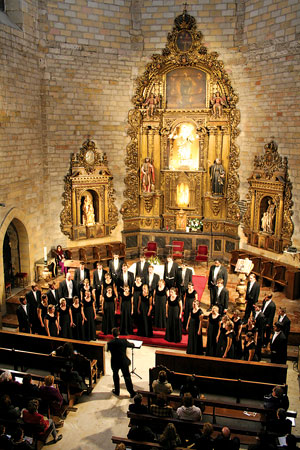 Freshman Jon Smith called the trip "life-changing" and noted that it was his first time traveling abroad. "It was the perfect mix of experiencing the culture of Europe and doing what I love most—singing," Smith says. "The competition was a great learning experience, and the fact that we placed second among some of the world's finest choirs proves that UD is a talent magnet."
After arriving in Spain, the group performed in churches in several Basque villages before joining the other choirs for the two-day festival and competition. Students say they generally had time to explore and see the sights in the villages before it was time to prepare for the evening concerts, held in impressive venues.
"In a musical and emotional sense, the Chorale was able to sing in beautiful churches with breathtaking acoustics," says junior Rachel Clark, the Chorale's student president-elect. "The opportunity to sing in these centuries-old cathedrals was incredible in itself, but the chance to do that with our best friends was absolutely amazing."
Students had formed a fairly tight-knit group before traveling to Spain, senior Luke Wallace says, "but the trip really brought us together as a bonding experience."
Like Wallace, Katlyn Lucio, a senior voice major, took part in the 2007 trip to Estonia and says the Basque festival brought back fond memories of that experience of performing on the international stage. "The most rewarding part of this trip for me was seeing other people in the Chorale be able to have the kinds of experiences we had in Estonia," she says. "A big part of the experience is being able to connect with the audience no matter where you are—of seeing how music transcends language."
Competitive festivals provide students with insights into other cultures and also inspire excellence in their performances, says Prof. Paul D. Head, chair of the Department of Music, director of choral studies and director of the UD Chorale for 14 years.
"Students have uniformly spoken about how this experience has deepened their musicianship and discipline for the highest levels of artistry," Head says of the Tolosa festival. "It pushes your musicianship to a higher level."