New softball coach takes the helm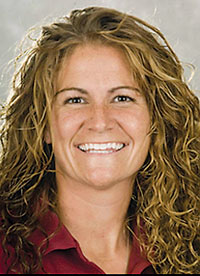 SPORTS | Jaime Wohlbach has been selected as UD's new head softball coach, only the fourth head coach in the 36-year history of the Blue Hen program.
Wohlbach, who served as head coach at Iona College for the past three seasons after a successful career as a player and assistant coach, quickly turned the Gaels program around and led Iona to its first NCAA tournament appearance this past spring.
"We are excited to welcome Jaime to the University of Delaware family, and we look forward to future success under her leadership," says Bernard Muir, director of athletics and recreation services. "She brings great enthusiasm for the game of softball and has shown outstanding success in leading student-athletes as a coach and instructor and in her career as a player."
Wohlbach replaces B.J. Ferguson, who posted a record of 622-583-8 over 30 seasons before stepping down in May to assume a full-time faculty position in the College of Health Sciences.
Since 2002, Wohlbach has run a national and international softball clinic called Fastpitch Performance. The camps and clinics have provided instruction for all levels of the game and have taken her all over the world. Her international reputation has garnered her contacts and recognition from both amateur and professional organizations and sponsors.
Visit www.bluehens.com for all your UD athletics news.