Coach Kenny hits a major milestone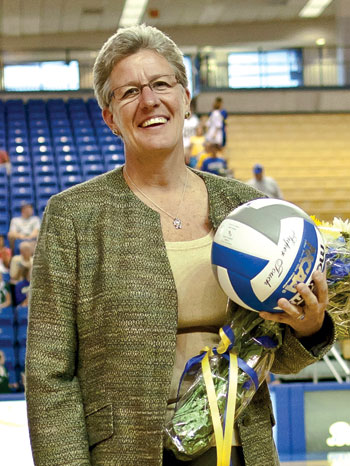 SPORTS | Volleyball head coach Bonnie Kenny this fall became the 28th active NCAA Division I coach to reach 500 career wins, as the Blue Hens defeated Virginia Commonwealth 3-0 Oct. 8 in Colonial Athletic Association action.
Not slowing down, Kenny got win No. 501 on Oct. 9 as the Blue Hens defeated the College of William and Mary 3-0 to improve to 15-5 overall and 4-1 in the CAA.
"I've coached a long time, have coached a lot of good players and have worked for a lot of great people," Kenny says. "I have to give the credit to them and to the people that have instilled hard work and dedication into me-my parents and my coaches."
After the Oct. 9 win, Kenny was 501-361 in her 26-year career, which started in 1984 at the University of South Carolina. She moved to the University of Massachusetts in 1993 and was named head coach at UD in 2002.
She gives credit to associate head coach Cindy Gregory, who has been a part of 285 wins alongside Kenny. The two coaches joined forces at Massachusetts in 1995.
"It's very comforting to have her have my back all these years," Kenny says.
Visit www.bluehens.com for all your UD athletics news.