Student-athlete honored for good works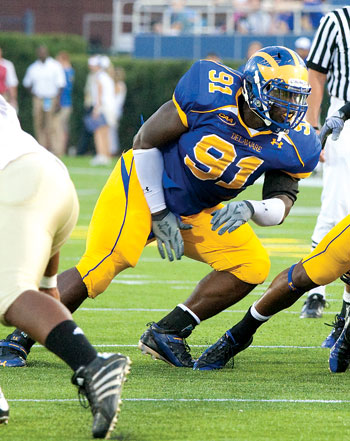 Photo by Mark Campbell
SPORTS | Senior defensive tackle Siddiq Haynes has been named one of 22 finalists for the 2010 Allstate American Football Coaches Association Good Works Team, one of the most prestigious off-the-field honors in collegiate football.
The award annually recognizes college football student-athletes who demonstrate a singular commitment to serving their communities, protecting the integrity of the sport and showcasing its positive impact well beyond the playing field.
Only 22 student-athletes were selected from 112 nominated players across the nation in all divisions of college football. Of the two 11-member teams, one includes players competing in the NCAA Football Bowl Subdivision, and the other is a combined team representing the NCAA Football Championship Subdivision (FCS), Divisions II, III and the NAIA. The program is now in its 19th season.
Haynes, an English major from Durham, N.C., has devoted more than 200 hours to community service projects involving the UD football team during his career. He has been involved with the Boys and Girls Clubs, Special Olympics, ABC-TV's Extreme Home Makeover, a bone-marrow drive, A.I. duPont Children's Hospital, Lung Cancer Walk, March of Dimes Walk and New Castle County Youth Football. He also created a Facebook group, "Fight Against Lung Cancer," with nearly 19,000 members.
"When others guys see that you put in that extra effort beyond the field, they want to be a part of it as well," Haynes says. "It's something we don't have to do as part of our scholarship, but we want to help out because it's good to give back to the community."
A three-year letter winner at UD, Haynes was one of only four student-athletes from the FCS classification selected among the 22 finalists and was the only player from the Colonial Athletic Association.
"The things he does in that locker room, in the classroom, in the community, on the playing field-it's such a great story," Delaware head coach K.C. Keeler says. "It's a great story because he came here and had to work for everything he got. He has, and it's been great for us."
Visit www.bluehens.com for all your UD athletics news.