Season kicks off to a perfect start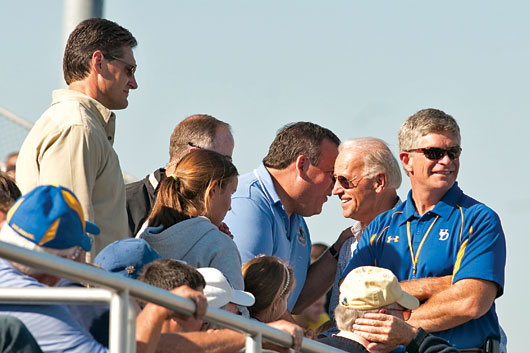 Photo by Bob Burleigh
SPORTS | The Blue Hens carried a perfect record through the first seven games of their 2010 football season before losing a heartbreaker to William & Mary on Oct. 23.
The No. 2 ranked Hens fell from the unbeaten ranks at Zable Stadium as their inability to score touchdowns instead of field goals deep inside William & Mary territory resulted in a 17-16 Colonial Athletic Association football setback to the No. 4 ranked Tribe.
The win gave William & Mary (6-1, 4-1 CAA) its sixth straight victory and moved the team into a tie with Delaware for first place in the Colonial Athletic Association standings. The Tribe scored the winning points when Jonathan Grimes hit Chase Hill on a six-yard halfback option pass with 6:25 left to play.
Delaware, which was playing its fourth top-five ranked team this season, had the chance to win the game in the final seconds, but Mike Perry, who had connected on three field goals earlier in the day, was wide to the left on a 42-yard attempt.
"We just had too many plays that we needed to make and we didn't make them today," said UD head coach K.C. Keeler after the game, which was his squad's third straight loss to the Tribe. "William & Mary is a very good team, but we are certainly capable of playing better, and we needed to play better than we did. A lot of points were left on the table. We are a better offense than that, and it's something we will work on."
Delaware quarterback Pat Devlin, a candidate for the Walter Payton National Player of the Year Award and the Johnny Unitas Golden Arm Award, had another impressive day, completing 23 of 32 passes for 293 yards and a touchdown.
Wide receiver Nihja White had the best day of his career as he caught 10 passes for 146 yards and had the Hens' biggest play of the day as he caught a Devlin pass over the middle and outran Terrell Wells, stiff-arming him all the way into the end zone for a 51-yard score with 2:25 left in the first quarter to give UD a 10-3 lead.
Devlin echoed Keeler regarding the missed opportunities deep inside Tribe territory.
"We got inside the five-yard line twice and couldn't get a touchdown, and that makes it tough," he said. "You have to find a way to punch it in when you get that close, but we couldn't and that was the biggest thing today. They brought a little more pressure when we got close. You look back on those plays and wish you had some second chances."
Delaware went into its eighth game of the 11-game regular season with a 7-0 overall, 4-0 CAA record, as one of just four unbeaten teams in the nation at the Football Championship Subdivision level. The Hens won at home the previous Saturday with a 24-17 conference victory over Rhode Island.
UD scored previous season wins over West Chester (31-0), South Dakota State (26-3), Duquesne (30-6), Richmond (34-13), James Madison (13-10) and Maine (26-7).
EDITOR'S NOTE: At press time for the UD Messenger, the football season was continuing. For details and updates, visit www.bluehens.com.
Visit www.bluehens.com for all your UD athletics news.