The write stuff for college students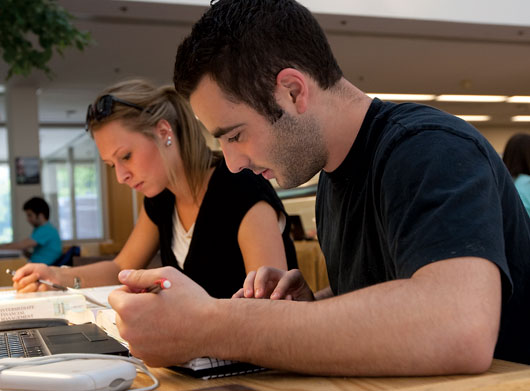 Photo by Ambre Alexander
RESEARCH | A professor of education, who has specialized in the problems of struggling writers in elementary and secondary schools, will now be working to improve the writing skills of college students.
Charles MacArthur has received an $880,000 grant to conduct a three-year research project in which he will collaborate with Melissa Ianetta, associate professor of English and director of the UD Writing Center, and faculty at Delaware Technical and Community College.
"Every year, hundreds of thousands of students take a basic writing class when they enter community college," MacArthur says. "These are usually non-credit courses that students are required to take before they can proceed with their degree goals. There are well-developed instructional approaches for these courses, but there's very little research on what approaches are effective in improving students' writing."
The goal of the project, supported by the National Center for Education Research in the U.S. Department of Education's Institute of Education Sciences, is to develop and evaluate a writing curriculum and instructional methods to aid students in community college developmental English composition courses.
"This grant gives us a new way to think about postsecondary writing instruction," Ianetta says. "It will help us generate data to better understand what we're doing right and how we can do it even better."
About 45 percent of students who enter one of Delaware Tech's four campuses from high school enroll in basic writing classes. Researchers began this fall by observing the basic writing classes at the Stanton campus. MacArthur says they'll work with Delaware Tech faculty to create a curriculum that will be introduced in the spring semester.
From there, researchers will observe and collect data in the classroom, collect writing samples, assess students and continue to make adjustments to the curriculum.
The revised curriculum will be taught next fall, and new faculty will be brought in the following spring to teach it again. In the final year of the project, researchers will conduct a pilot study with the fully developed curriculum.
MacArthur has worked with students with disabilities and other struggling writers from grades three through 12 his entire career. Five years ago, he says, he became more interested in working with adult learners in basic education programs and became aware of the lack of research on instruction for struggling adult writers.
"We saw the need and decided we could apply what we knew from working with younger struggling writers to see how effective it could be with this population," he says.
Struggling writers, according to MacArthur, have difficulties with a variety of skills, everything from handwriting, spelling and grammar to generating ideas and getting them down on paper in a way that communicates effectively to an audience.
Instead of concentrating on grammar, writing instruction within this curriculum will emphasize composition, helping students learn how to generate ideas and organize them in a way that makes the actual writing process easier.
Article by Cassandra Kramer